La copertina di THE PLAN 140 è un omaggio al dialogo tra l'architettura e la natura: protagonista il complesso residenziale Marea, realizzato da WORKac a Batroun, Libano. La fotografia è di Bruce Damonte. Il numero racchiude dieci articoli, che spaziano tra differenti progetti di ampio respiro in tutto il mondo.
Ad aprire il numero è l'editoriale dal titolo "Nature Sintetiche", scritto da Winka Dubbeldam, fondatrice dello studio Archi-Tectonics. Il suo è un articolo che riflette sul rapporto fra l'uomo e la natura in questo periodo storico ribattezzato "Antropocene". Attraverso un'analisi d'insieme, che spazia fra diversi punti di vista e si avvale di numeri ed esempi oggettivi, l'autrice arriva a identificare il ruolo dell'architettura in questo processo di cambiamento.


Nella rubrica "Letters from America" di Raymund Ryan, viene raccontata la Chiesa di San Sarkis – alla cui facciata era dedicato il focus di THE PLAN 139 – con l'annesso Centro per la Comunità Armena, progettati da David Hotson a Carrollton, in Texas.
Protagonista della rubrica "Highlights" è lo studio Brooks + Scarpa, vincitore nel 2022 della medaglia d'oro AIA. L'autore dell'articolo, Michael Webb, racconterà uno degli ultimi progetti firmati dallo studio: il complesso multifunzionale Rose Apartments, realizzato a Venice, in California.
Dagli Stati Uniti alla Cina per conoscere il progetto dell'Oct Art Center a Zibo, nella provincia di Shandong, firmato dallo Studio Zhu Pei. Un'architettura in cui le forme massicce e i materiali grezzi sono in un delicato equilibrio con l'ambiente circostante. La mission di Pei è stata quella di portare la natura all'interno dell'architettura, al fine di costruire una tensione poetica che fosse in linea con la tradizione estetica cinese.
Trasparenza, flessibilità e sostenibilità sono i principi cardine dell'edificio interdisciplinare "Echo" a Delft, nei Paesi Bassi, l'ultima architettura progettata da UNStudio. L'obiettivo di Ben van Berkel, fondatore dello studio, è stato quello di plasmare uno spazio universitario in cui il corpo docente, gli studenti e i visitatori potessero condividere idee e competenze.
Un altro progetto inserito nel nuovo numero è quello dell'edificio destinato a ospitare i due musei Photo Elysée e Mudac all'interno della cittadella delle arti "Plateforme 10" nella città di Losanna, in Svizzera. Progettato da Aires Mateus, si tratta di un cubo monolitico in calcestruzzo, solcato da una fenditura orizzontale vetrata, che enfatizza la divisione fra i due musei ospitati nello stesso edificio.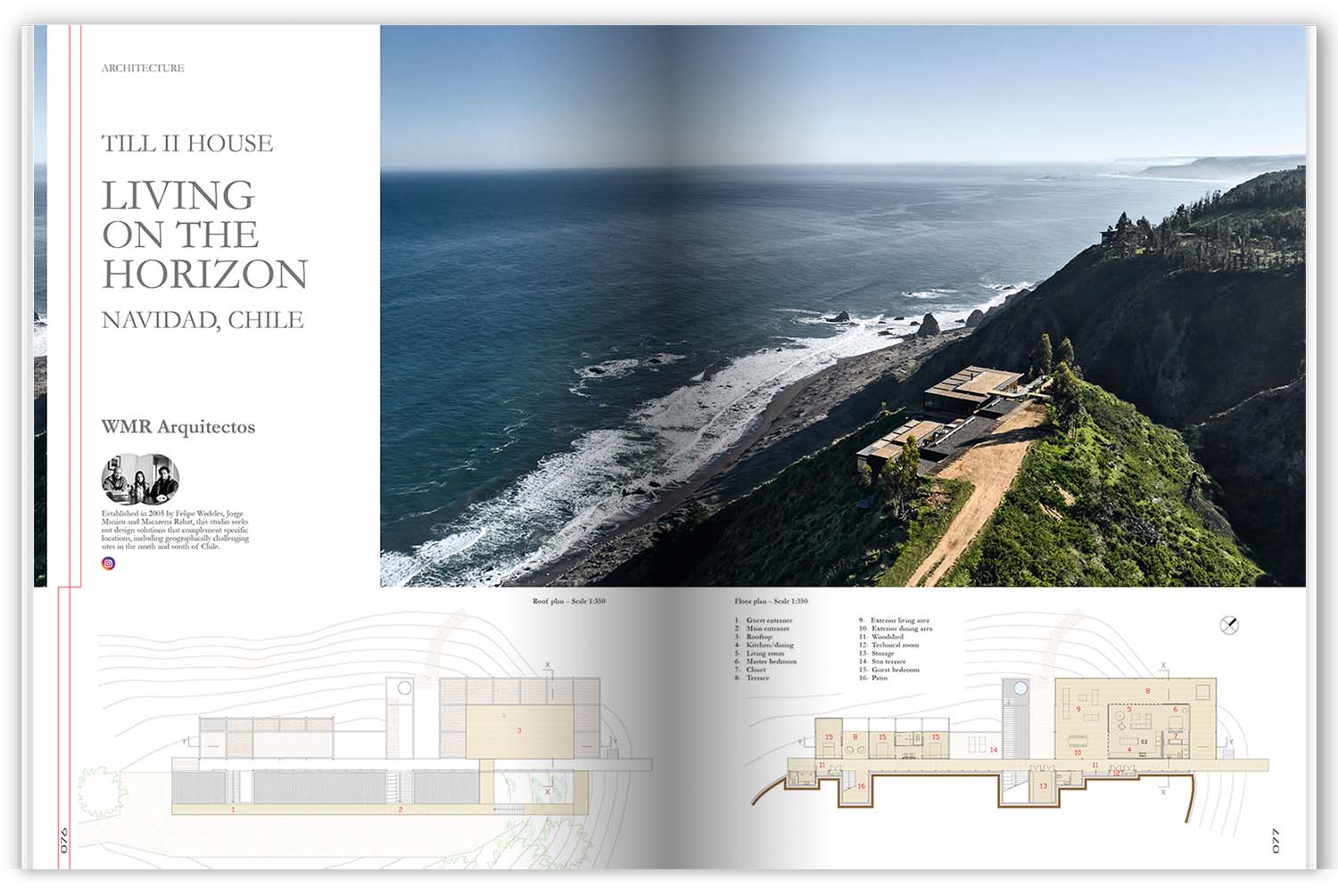 A seguire i diversi articoli dedicati agli edifici pubblici, ce ne sarà uno dedicato a una villa molto particolare: Casa Till II, progettata dallo studio WMR Arquitectos. La residenza sorge sulle colline di Navidad, in Cile, in una posizione da cui gode di una vista panoramica sull'oceano. Il rigore geometrico e la leggerezza dell'insieme danno vita a un suggestivo rapporto fra l'artificiale e il paesaggio naturale.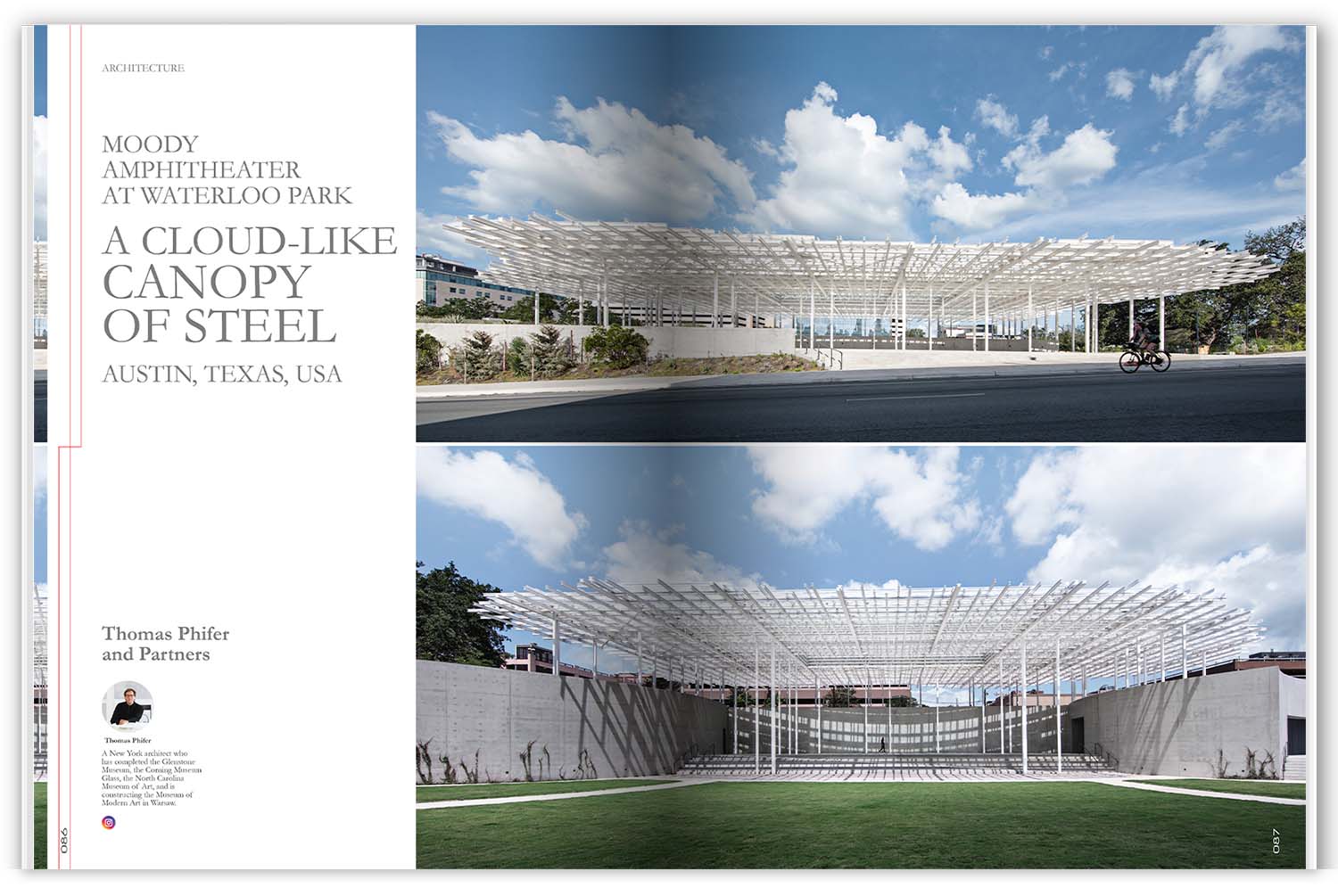 Tornando negli Stati Uniti, ad Austin, capitale del Texas, viene illustrato il progetto per il Moody Amphitheater al Waterloo Park, ideato da Thomas Phifer and Partners. L'effetto è quello di una nuvola d'acciaio sospesa sul parco in cui a essere protagonista è la luce filtrata dall'architettura stessa.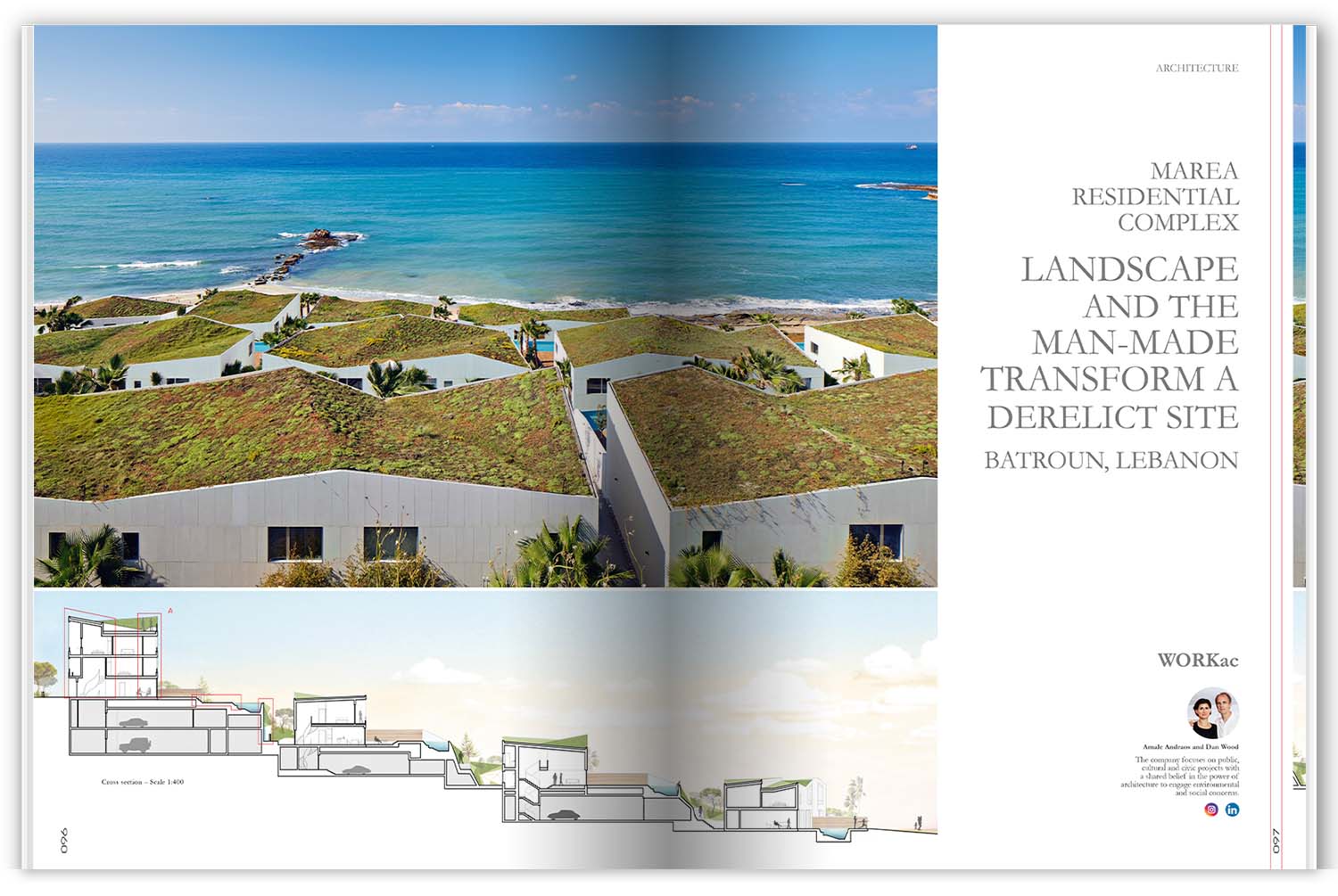 A chiudere la sezione "Architettura" è il complesso residenziale Marea progettato da WORKac a Batroun, in Libano, che andrebbe visto e vissuto da diverse angolazioni. I suoi terrazzamenti, fatti di piscine e giardini pensili, dialogano col paesaggio. Gli interni sono invece studiati per garantire la massima qualità degli spazi abitativi, oltre a offrire scorci sempre differenti.