Italian schools are about to reopen – possibly after Easter, possibly for only a few class levels. No one's sure at this stage. What is certain, however, is that to open, schools will need to have everything in place to welcome students back.
One of the challenges facing contemporary educational architecture is to rethink the construction, aesthetic, and functional models of the past, and put forward new ideas and schemes that foster teaching, socialization, and cultural exchange, including by harnessing new technologies and safeguarding the environment.
Architecture is therefore a means to transform schools from isolated places to open, dynamic social catalysts, where a child's everyday experiences become an integral part of learning.
This is why we've always devoted a lot of space to new educational architecture projects. The focus of #THEPLAN128 is schools. Plus, like previous years, THE PLAN AWARD 2021, includes the Education Future and Completed categories for school architecture.
In this article, we're looking at two future examples of how architecture can transform schools into hubs dedicated to community, technology, and sustainability.
UNIMI SCIENCE CAMPUS
This project by CRA–Carlo Ratti Associati and Australian real estate group Lendlease won the international competition for the construction of University of Milan's new science campus. Scheduled to open in 2025, the campus will extend over 47 acres (190,000 m2) and will be used by some 23 thousand students and researchers.
The project, developed by CRA in collaboration with architect Italo Rota, revolves around a network of green courtyards, a series of pedestrian paths at different heights, and five brick buildings. It also features a large central plaza and a nearby lake.
The buildings are a homage to Ca 'Granda, the fifteenth-century brick building designed by Renaissance architect Filarete, which is today part of the main campus of University of Milan.
"Recent data analyses of human interaction on academic campuses have shown that there is a direct correlation between the physical proximity of researchers and scientific output," says Carlo Ratti, founding partner of the CRA and director of the Senseable City Lab at the Massachusetts Institute of Technology. "In other words, human interaction is an essential component of the discovery process. The recent pandemic, which forced academics to live and work for months on end in isolation, has only reinforced the importance of physical space. Our Campus 2.0 design elaborates on Filarete's ideas from almost 500 years ago to create a testing ground that will promote interaction among diverse communities."
THE NEW "ENRIQUES AGNOLETTI" HIGH SCHOOL
Architecture studio Settanta7 designed the new Agnoletti high school in a former farming area on the plains near Florence. The complex comprises a single elongated volume, made up of three blocks – two dedicated to teaching and one a gym.
The elevations are interrupted by semi-courtyards that open onto the surrounding landscape and are angled in such a way as to recall the orientation of the church that once occupied the site. The orientation of these "cut-aways" also optimizes the amount of natural light in the classrooms.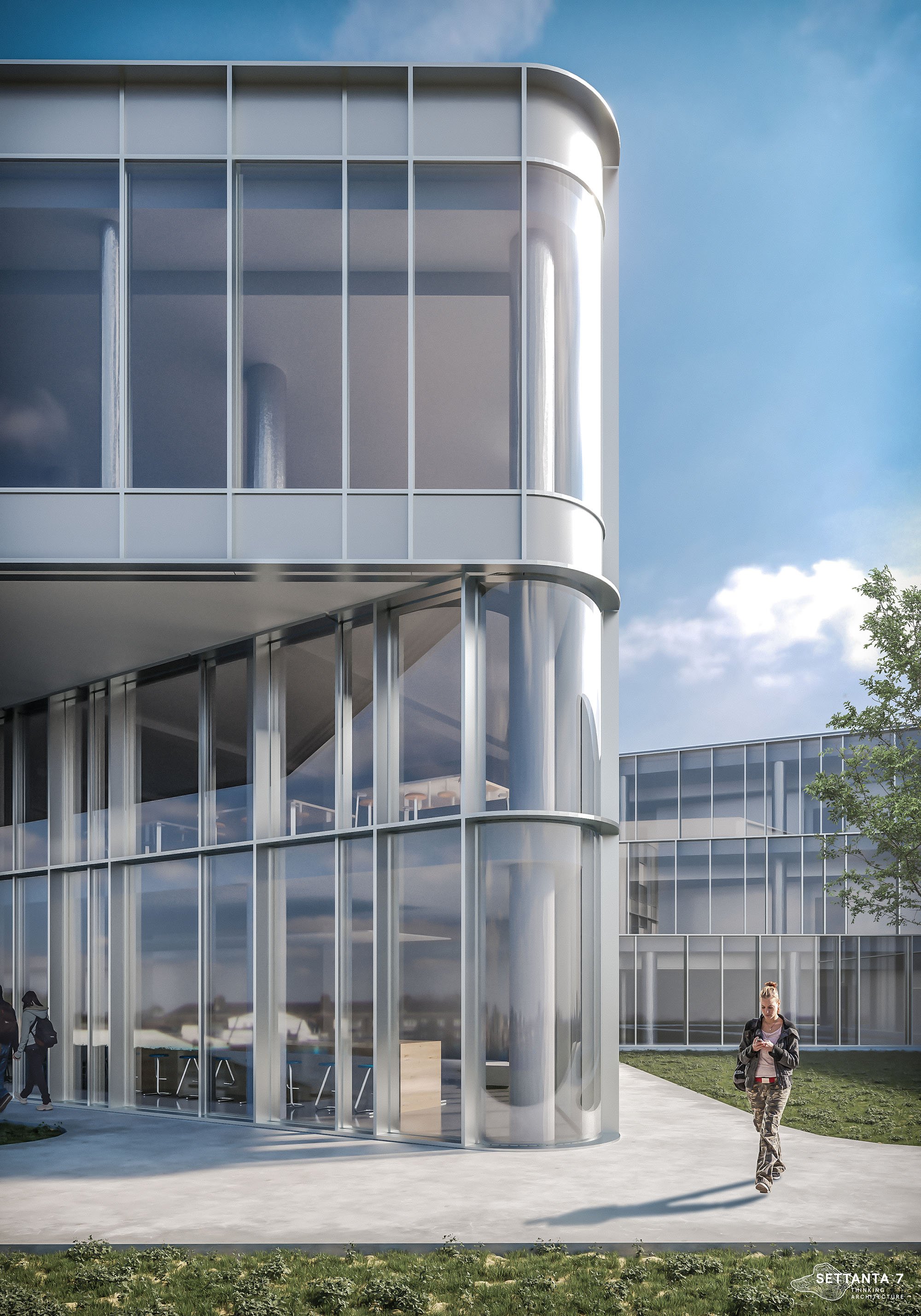 The school is designed to accommodate nine hundred students in 35 classrooms and five labs. The reinforced concrete building incorporates some important energy saving technologies, including a 140 kWp photovoltaic system, a controlled mechanical ventilation system serving every room, an insulated envelope, and a ScreenLine system for regulating solar gain.
To support teaching, and optimize comfort levels, during school hours acoustic control technologies are available and classrooms feature interactive whiteboards. The project has Italian A4 energy certification and is a NZEB, with all minimum environmental criteria met.
UNIMI SCIENCE CAMPUS
Architectural concept: CRA-Carlo Ratti Associati
Creative Consultancy: Italo Rota
Location: Milan, Italy
Renderings by CRA Graphic Team: Gary di Silvio, Pasquale Milieri, Gianluca Zimbardi
IL NUOVO LICEO SCIENTIFICO A.M. ENRIQUES AGNOLETTI
Architect: Settanta7 Studio Associato
Location: Sesto Fiorentino, Italy
Renderings courtesy of Settanta7 Studio Associato