Bright sunshine and the crystal-clear Balearic Sea envelop the old city of Palma de Mallorca, which features Gothic-style monuments and ancient palaces with wooden gates that conceal gardens and fountains. The island's elegant charm pervades the residences designed by OHLAB, enclosed in the Can Santacilia complex, that was created from the restoration of two historical buildings in a state of abandonment. The project includes 15 unique apartments, in addition to some common spaces, like the gym and the spa with a pool, as well as parking lots on the basement floors, for a total area of 3,300 sq. m.
The restoration, which saw the complete reorganization of the spaces around the central courtyard, aims to preserve and modernize the two existing buildings, while accommodating the modifications they had undergone over the centuries without erasing them. In fact, the complex, which is listed in city records since 1576, dates to a period between 1200 and 1300 and has subsequently been remodeled several times. The two buildings, which respectively have three and five floors above ground, are connected by a ground-floor distribution corridor. The exterior historical façade on Plaça de Can Tagamanent was restored, preserving some decorations dating to the 18th century. For the interior, mortar and lime cladding, wooden ceiling structures, ceramic floors, stone columns and wrought-iron balustrades were recovered. In this historic setting that privileges local traditional materials, contemporary furnishings with a minimalist design find their place, as well as new architectural elements such as the oak walkway that connects the common areas of the two buildings and the mirrored walls that separate some of the rooms while multiplying the perception of space. The cornerstone of the project is the main entrance courtyard, which was previously distorted by changes over time and has now been restored to its original function of great importance that it once held in ancient noble homes. The complex also includes a second courtyard, which serves as a private garden, and five panoramic terraces for the different residential units.
From an energy conservation point of view, a number of strategies were used to increase efficiency and reduce consumption: insulation has been increased, thermal bridges at the envelope level were eliminated, and a centralized air conditioning system was added. The entire OHLAB project is animated by the tension between the desire to conserve and enhance the historical identity of the complex and the goal of adapting the interior to a modern lifestyle. The balance between these two objectives is achieved through a project tailored to each individual residential unit: a successful encounter between old and new, traditional and contemporary, past and present.
Location: Palma de Mallorca, Spain
Client: Vivienda Santacilia
Completion: 2022
Gross Floor Area: 3,300 m2
Architecture, Structures and Interior Design: Ohlab
Main Contractor: Diazgar Obras
Project Manager: Rafael Del Toro
Photography: José Hevia, courtesy of Ohlab
You might also like: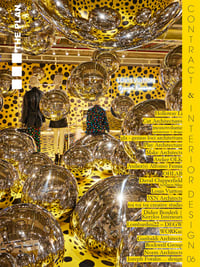 Contract & Interior Design 06
THE PLAN Contract 6 is the sixth special supplement to THE PLAN dedicated to the contract market and interior design. Out in April 2023 with THE PLAN 145, the publication brings together over 20 of the most significant projects on the international s... Read More
Paper Version
12.00 €
Digital version
5.49 €