"We never wanted to design an environment where people felt like they were in the office. We wanted everything to be very spacious and welcoming, with all the comforts of a home", state Melissa Amarelo and Stephanie Lund, founders of the interior design firm toi toi toi creative studio, speaking about their idea for the new offices of the software company Contentful. Having grown from a startup to one of the biggest companies in information technology, Contentful needed a space that could accommodate its expanded workforce in a setting that maintained the informality and vibrancy typical of a young company.
For Contentful's new headquarters in Berlin, located within a newly constructed five-story building, toi toi toi focused on an agile and flexible design based on sustainable materials and some vintage design pieces.
In the definition of the project, the designer wanted to directly involve the employees of the company through the creation of small committees that discussed the different personal needs and aspirations of each employee. The project was carried out in close consultation with the future users of the spaces to guarantee a result tailored to the actual needs of the workers.
Flexibility was key to the design project: the layout of the spaces incorporates a wide variety of offices and meeting rooms of various sizes that can be reconfigured based on usage needs. The space was furnished using the same principles: the desks, seating, armchairs and sofas are adaptable and can be remodeled for different uses. The majority of the workstations are organized in open space, and there are also several workstations that allow for collaboration with colleagues who work remotely, in addition to acoustically insulated desks and offices that allow for more privacy and concentration when needed.
To incentivize collaboration between employees, the building includes areas for relaxing and socializing, like the Ritter Café, which is the heart of the design concept of toi toi toi. This is a recreational space, dedicated not just to the consumption of meals but also to conviviality, play and interaction between employees. There are ping pong tables, large communal tables, and sofas and armchairs to relax.
The design also includes a large amount of indoor plants spread throughout each floor to bring workers closer to nature and encourage them to relax. The designers also paid great attention to employee health, adding chromotherapy rest stations, and meditation and prayer spaces. The ground floor features a yoga studio and the basement has bicycle parking with showers and changing rooms, to promote a healthier and more active lifestyle among employees.
Lastly, there is a children's zone, so that employees can bring their children to the workplace, and all the offices are dog-friendly, thus maximizing the feeling of working in the convenience and comfort of one's own home.
Location: Berlin, Germany
Client: Contentful
Developer and Investor: Townscape
Completion: 2022
Gross Floor Area: 8,215 m2
Architectural Design: Rkw Architektur
Client Architect: WAF Architekten
Interior Design: toi toi toi creative studio
Main Contractor: Köster
Photography: Koy+Winkel Fotografie, courtesy of toi toi toi creative studio
You might also like: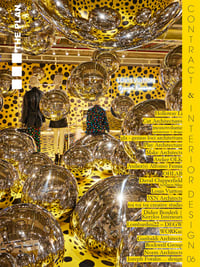 Contract & Interior Design 06
THE PLAN Contract 6 is the sixth special supplement to THE PLAN dedicated to the contract market and interior design. Out in April 2023 with THE PLAN 145, the publication brings together over 20 of the most significant projects on the international s... Read More
Paper Version
12.00 €
Digital version
5.49 €