Russian artist Wassily Kandinsky believed that through abstraction it was possible to enter in contact with the innerer Klang, the inner voice of things, and thus connect with the true essence of nature. Preferring an abstract language that used signs and colors as its vocabulary, the artist broke away from the figurative art popular among his contemporaries, marking a personal and intimate artistic journey that defined him as one of the precursors of abstract art.
His theories inspired two Holloway Li architects for their renovation project of a historical office building in Munich once belonging to Siemens. The former office building was converted into a modern, stylish apartment-hotel, which includes public spaces available for city use and 360 studio apartments.
In the design of the hotel, called WunderLocke, the architects made a stylistic choice prioritizing minimal impact, highlighting material and color in the few defining features. The building's reinforced concrete frame and air system ducts were exposed in the common areas of the hotel, as if to show the bones of the structure. The architects then created the "body" of the hotel through slight overlays of elements in natural materials, creating a delicate contrast between the former building and its renewal. In the areas of the hotel, one can perceive a tension between form and structure and between color and material, recalling the works of Kandinsky.
The layout of the common areas is anchored in principles of fluidity and the possibility of future conversions to other uses without needing special interventions. The common spaces are in communication with each other and facilitate a smooth transition from one environment to another. There is also a small microcosm serving the city and guests from outside the hotel, which includes social spaces, free co-working stations, a restaurant and a bar.
The common thread of the project is dense vegetation, which fills the space between the reinforced concrete columns. The spaces seem invaded by a forest and connect guests to the natural world. The wood and raffia palm furnishings, combined with comfortable upholstered seating and a subdued, soothing color palette, create a soft and harmonious environment, mitigating the coldness of the exposed concrete structure.
Refined restorations brought back to life existing structures, such as the lavish Venetian terrazzo staircase dating from the 1960s, which has been renovated using a contemporary design with new steel fixings.
Finally, for the private studio apartments, the architects chose a cooler color palette for the carpet, curtains and bedding, adding small wood furnishings and a collection of low-impact lighting fixtures custom-designed for the project.
Location: Munich, Germany
Client and Project Manager: edyn
Completion: 2022
Gross Floor Area: 17,055 m2
Interior Design: Holloway Li
Art Direction: Alex Holloway
Managing Director: Na Li
Project Architect: Matthieu Tate
Executive Project: Drees & Sommer
Main Contractor: TM Ausbau
Photography: Edmund Dabney, courtesy of Holloway Li
You might also like: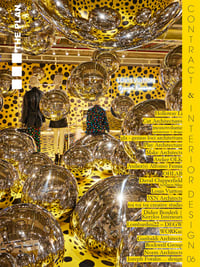 Contract & Interior Design 06
THE PLAN Contract 6 is the sixth special supplement to THE PLAN dedicated to the contract market and interior design. Out in April 2023 with THE PLAN 145, the publication brings together over 20 of the most significant projects on the international s... Read More
Paper Version
12.00 €
Digital version
5.49 €