In Milan, the three-volume architectural complex Edifici Garibaldi Executive, known as ED.G.E., occupies three sides of a block right behind the Porta Garibaldi station, a few steps from Piazza Gae Aulenti. Strategically located in one of the city's most fashionable neighborhoods, Porta Nuova, the complex is a "building of buildings", in which each component has its own individual architectural identity and distinctive language.
The American multinational Oracle, a leader in technology and cloud services, has established its headquarters at the complex, occupying all five floors of the building on Via Tocqueville and another two floors of the edifice on Via D'Azeglio. The planning and furnishing of the 6,000 sq. m of office space, destined for 570 employees, was entrusted to DEGW, a business unit of the Lombardini22 group, which specializes in interior design for workplaces.
The environments were designed to be versatile, flexible and modern, aiming to incentivize employee collaboration and stimulate creativity. In addition to operational workspaces, there are lounges, meeting rooms, and open spaces for informal meetings. Each floor also hosts a free space without plans, that workers can use during breaks or for informal collaboration. The traditional workstations prioritize worker health: the desks are adjustable in height and are equipped with highly ergonomic chairs.
Each floor of the Oracle headquarters pays homage to Milan, telling the story of the city through its prominent characters, colors and nature. The ground floor is dedicated to the women of Milan: the rooms are named after Franca Valeri, Alda Merini and Carla Fracci. The first floor describes the nature and secret gardens of Milan; the meeting rooms have the names of different tree species spread throughout the city. The second floor is centered on the discovery of Milanese design, with meeting rooms named after timeless forms of the world of design such as Tolomeo, Arco and Eclisse. Color is the theme of the third floor, featuring the "Maria Teresa" yellow typical of many Milanese palaces of the 1700s on the walls and furnishings. The fourth floor is focused on music, and the meeting rooms are named for some of the most famous works of Verdi like Aida, Otello and Nabucco.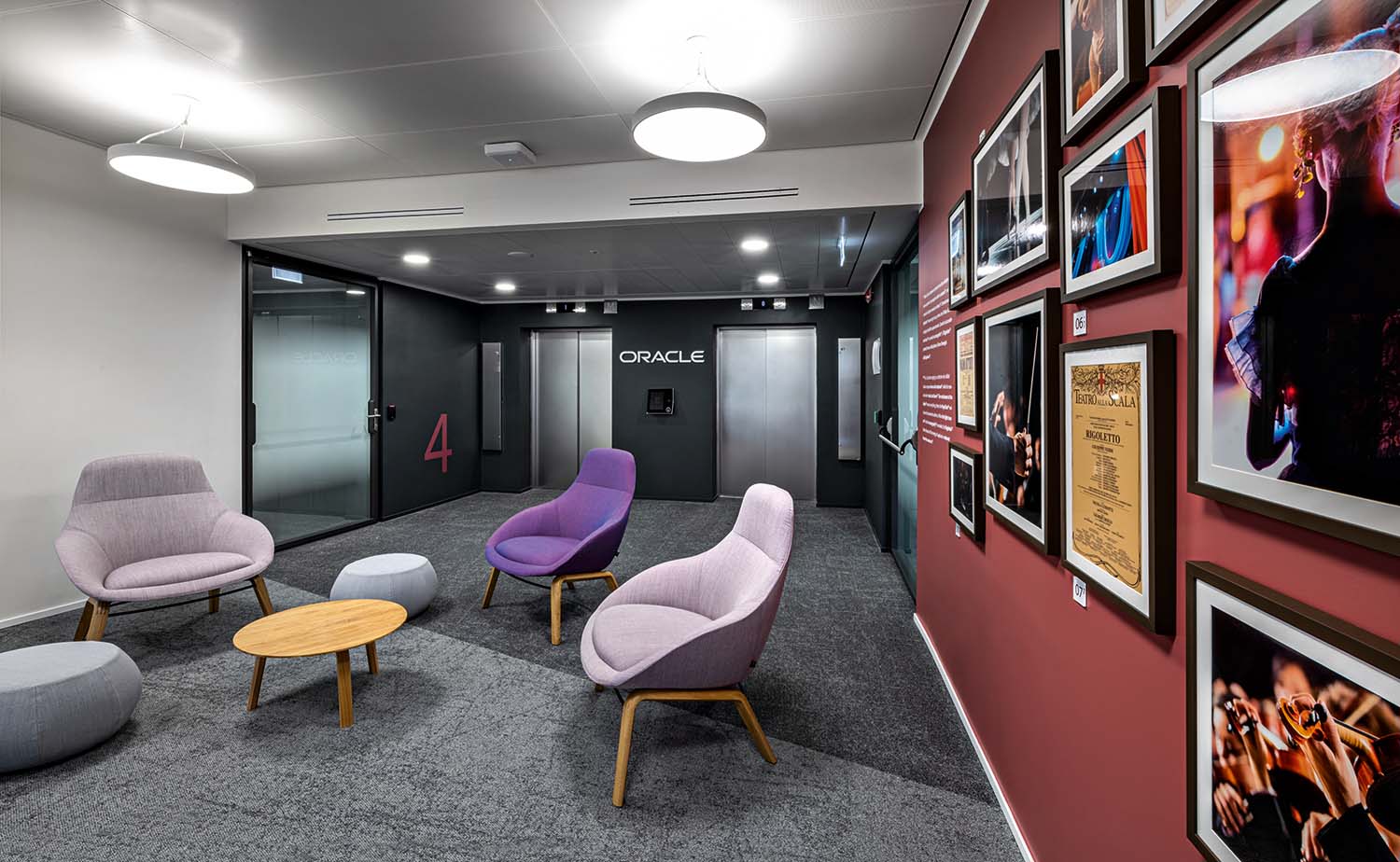 FUD, Lombardini22's business unit focused on graphics and physical branding, created a common thread that runs through each room and unifies the different levels of the building using an attentive color palette associated with symbols, textures and graphic elements.
Lastly, there are several special rooms with specific functions, like the 60-person auditorium dedicated to Alda Merini, the customer visitor center, a representative space featuring refined finishes in natural materials, the VIP Lounge, which has two matching kitchenettes for employee events, and the library, a multifunctional room which hosts activities ranging from readings to yoga. The wall of the Library is adorned with a work of street artists Orticanoodles, another great tribute to the city of Milan through art.
Location: Milan, Italy
Client: Oracle
Completion: 2022
Gross Floor Area: 6,000 m2
Architect: General Planning with Onsitestudio
Interior Design: DEGW
Physical branding: FUD
Preliminary, Final and Executive Plant Engineering: L22E&S
Lighting and Acoustics: Atmos
Art Consultant: Artlane
Main Contractor: Contec
DEGW, L22E&S, Atmos, FUD and Artlane are Lombardini22 group's business units
Photography: Dario and Carlo Tettamanzi, courtesy of Lombardini 22
You might also like: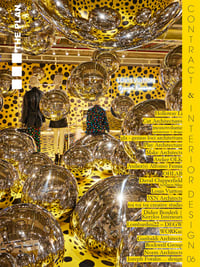 Contract & Interior Design 06
THE PLAN Contract 6 is the sixth special supplement to THE PLAN dedicated to the contract market and interior design. Out in April 2023 with THE PLAN 145, the publication brings together over 20 of the most significant projects on the international s... Read More
Paper Version
12.00 €
Digital version
5.49 €