"Where together, everyone achieves more" is the principle underlying Woods Bagot's design for ABN Group's headquarters in Leederville, a suburb in the Perth metropolitan area, Australia. With 40 years' experience in the construction, real estate and financial sectors, the group has moved its headquarters to a building capable of accommodating 800 employees, bringing together the company's various divisions under one roof on an 8,800-sq. m site.
The new headquarters promote the familiarity and hospitality that has always been part of the company's identity. The first two levels of the facility are dedicated to clients, starting with the ground-floor "Home Collective" space where clients plan the purchase or construction of their home. Floors two through five are reserved for staff, spread among workspaces in a flexible layout so that everyone can find the arrangement that best suits their type of activity, including access to audio and video tools. The open space is flanked by meeting rooms and other rooms for seminars and training courses, along with large common areas and a refreshments zone, including an outdoor terrace on the top floor, home to the staff's "Super Hub", equipped with a large kitchen and breakout space which may be reconfigured to host organized events for clients.
The interior design was conceived to create an open, comfortable space through design strategies like prevalently using wood, the warm material par excellence, inclusion of numerous plants, and a careful study of the light, deploying different lighting solutions across the various spaces.
Inspired by atavistic themes of dwelling and landscape, the design creates a series of experiences through the building's variety of spaces. The gum trees that line the building's south façade, for example, hark back to Australian folk song Home Among the Gum Trees, while the typical image of clotheslines people put up in their backyards to hang their laundry out to dry was recreated using ropes and tenting suspended above the collective spaces. Designed like a veranda, the first-floor business lounge is actually a series of lounges that are perfect for informal chats, while a ground-floor relaxation area in the middle of the staircase leading to the upper levels is furnished in a retro style reminiscent of 1970s Australia. The abstract, gum-tree-leaf-like patterns on the carpeting and wallpaper with indigenous motifs further reference the local area. Everything in the design reflects ABN Group's mission: to make the Australian dream of home ownership a reality.
INTERVIEW
Inclusive Workplaces, Positive Experiences
Amanda Stanaway
Principal, Global Leader - Workplace Interiors, Woods Bagot
The interiors at ABN Group's headquarters in Leederville evoke themes of dwellings and landscapes dear to Australians. How important is it to design a workplace where people can feel at home?
I think it is critically important, especially at a time of this post-pandemic rethink of the workplace. Our priority is to create a homely, familiar atmosphere so that people feel comfortable at the office, not alienated or intimidated. Big changes are taking place right now in everyone's conception of the workplace. It seems that more and more, we are moving toward offices focused on employees and the customer experience, in which from a human perspective the spaces are warmer, very much representing how we wish to work and interact with one another.
When you are designing an office, how do you strike a balance between areas set aside for team activities and spaces dedicated to individual work?
We have to balance these two spheres in each of our projects, bearing in mind that from now on our approach to work will be more collaborative and more video communication-based, which requires isolated spaces. Given this, the challenge is to be able to design what is still an open and inviting office. There is a tendency to believe that team activities will increase in future, but I actually think it is necessary to bring the focus back onto individual work, which many people think should be undertaken at home. We need to think about individual work; a balance must be maintained, or some people may feel trapped in smart working.
What strategies can be adopted in the work environment to focus on people's well-being?
Without doubt, studying light and having both natural and mechanical ventilation are essential. However, I believe it is equally important to design inclusive workplaces capable of accommodating everyone and meeting diverse needs. Post-pandemic, we are moving toward using healthier materials and putting more vegetation inside offices, but most importantly, installing air quality control systems, and that requires making changes to building systems.
What is your vision for offices in the post-Covid era?
I do not think anyone has actually designed a post-Covid office yet, not least because the situation continues to evolve. We still work in places designed as if people were always in the office, whereas today we work hybrid, in some cases remotely, which requires a different way of organizing space, and technological equipment of a certain kind. In workplace design, we have to be careful to create positive experiences: people are keen to return to beautiful, comfortable places with suitable services and areas for socializing. We must use technology to create an immersive and dynamic experience, so that people prefer to return to the office than continue working from home. The ABN Group headquarters design is a step in this direction.
To respond to the radical change in work habits during the pandemic, you envisioned four different office templates that you then blend together. Could you present them to us?
The first model is the Cultural Club, which revolves around a teamwork-based approach: everyone plays his or her own role in-company, but teamwork is what makes it possible to create and carry on a business, which means that meeting and social interaction are essential. The second model, In and Out: today in Australia, people typically work two or three days remotely and the other two or three days at the office. On the one hand, this means cities empty out on Mondays and Fridays; on the other, it makes it very difficult to design an office in a way that optimizes space. The third model, called Community Nodes, proposes several smaller workplaces distributed throughout the territory, reducing travel times and fostering sustainability. The fourth and final model, Collectives, rethinks open-space offices by providing spaces for small-group work, centralized services and common areas.
Is the Covid workplace revolution unprecedented, or have we already witnessed turning points of the same magnitude?
I believe this is the biggest, most wide-range change we are yet to see, one that has swept through all sectors of the global economy. The impact will be felt particularly strongly in America, where before the pandemic they still had a very traditional way of working. In Australia, things were already organized in a more flexible manner: although people spend less time in the office, we need to rethink how to build a sense of belonging to a company, that sense of community. We are only at the beginning of this process of change; only now are people beginning to realize the impact of the pandemic on our cities, mental health, on the economy... And I think it is a great opportunity to rethink our world and our lives.
Location: Perth, Australia
Client: ABN Group
Completion: 2021
Gross Floor Area: 8,814 m2
Interior Designer: Woods Bagot
Main Contractor: PACT Construction
Consultants
Project Manager: Bridge42
Structures: Forth Consulting
Acoustics: Herring Storer Acoustics
Mechanical: Link Engineering Consultants
Electrical: BEST Consultants
Plumbing: Ionic Design Australia
Photography: Dion Robeson, courtesy of Woods Bagot
You might also like: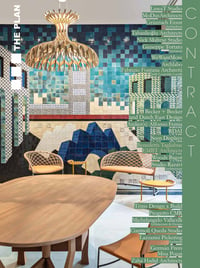 Contract 005
THE PLAN Contract 5 is the fifth special issue that THE PLAN is dedicating to contract furniture, a fascinating and complex sector that brings together mass production and customized spaces. Out in September with THE PLAN 140, the issue features over... Read More
Paper Version
15.00 €
Digital version
5.49 €