In the most recent chapter in its 310-year history, Cervia's Darsena del Sale has returned to rude health after a refurbishment combining archaeological fidelity with new functional needs. Initially built in 1712 as a red-brick warehouse to store salt – or as it was known at the time, "white gold" – it was later converted into a naval museum. The recent renovation and redevelopment of the building's spaces strikes a new balance between architecture, historical heritage and new spaces that cater to multiple functions.
The Darsena was designed by Archlabo Fabrizio Fontana architetti, working in partnership with the municipal and regional administrations. The conversion is a result of the vision and forward-thinking of businessman Leopoldo Cavalli, who grasped the location's potential for a wellness center in the heart of Cervia near its canal port, at which water and salt would play starring roles. In addition to a wellness center spanning all four floors, the huge 20,000-sq. m complex is in part dedicated to food and wine experiences, as well as offering halls and rooms for musical performances and live entertainment. Cavalli was keen for the scheme to bring a new form of tourism to the city, intertwining "scenic beauty with a therapeutic, regenerative function, offering tools for self-care, living well and longer, and self-discovery".
Beyond the outdoor spaces available to the local community, like a covered inner sanctum, the Water Room lies at the heart of the interior. The food and wine experience at the Darsena's elegant main gourmet restaurant tells the story of local flavors in an approach that mingles innovation and tradition, hosting 150 guests in a characteristic environment around a pool. Especially in winter, live music shows and events are held here; in summer, they move to an outdoor floating stage overlooking the San Michele Tower and the surrounding gardens. As well as concerts, artists and theater companies also perform live.
Curated by Gruppo Fonoprint, the events program spans a wide range of entertainment options. Fonoprint also manages the second-floor Music Room, which is equipped with a video, lighting and sound control booth, a radio station and an area dedicated to multimedia art workshops.
The gastronomic experience continues on the first-floor at Terrazza Darsena for breakfast and brunch, along with the Via del Gusto bakery and pastry workshops, salsamenteria and wine bar, not to mention an 800-sq. m, fully soundproofed, water-based wellness and healthfulness pathway. The acme of the center's treatments is its Via del Sale, a thalassotherapy experience on a bed of Cervia salt at a variety of controlled temperatures, overlooking Piazza dei Salinari, the canal, the San Michele Tower and the gardens below. This experience occupies the entire third level, where the complex's full height and depth are perceived, reflecting Cavalli's vision: "From design to music, beauty and spa,
high-quality food, wine and entertainment, this project combines all of my passions and experiences".
Location: Cervia, Ravenna, Italy
Client: Comune di Cervia
Tender Concession Holder: Temporary Joint Venture between Gruppo Fonoprint, Nuage Beauty Academy, Visionnaire
Completion: 2021
Gross Floor Area: 3,000 m2
Architect and Interior Designer: Archlabo Fabrizio Fontana Architetti
with Leopoldo Cavalli
Sound Designer: Gruppo Fonoprint
Main Contractor: Consorzio CEAR
Photography: Lorenzo Pennati, courtesy of Darsena del Sale
You might also like: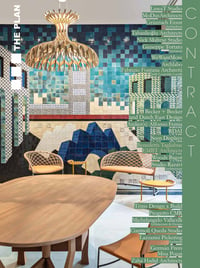 Contract 005
THE PLAN Contract 5 is the fifth special issue that THE PLAN is dedicating to contract furniture, a fascinating and complex sector that brings together mass production and customized spaces. Out in September with THE PLAN 140, the issue features over... Read More
Paper Version
15.00 €
Digital version
5.49 €