The Pirelli Tire Building, completed in 1969 as a symbolic gateway to New Haven, has been given new life as the 165-room Hotel Marcel. It is named for Marcel Breuer, the Bauhaus wunderkind who partnered with Walter Gropius and later with other architects. He designed this office block for the Armstrong Rubber Company and it was later occupied by the Pirelli tire company. The hybrid building was conceived as a landmark: a two-story rectangle of offices fronting a factory that was later demolished, and a five-story block elevated on columns above the first to give the modestly-scaled structure added presence. The flared and modeled concrete panels that clad both blocks on a 1.5-m module are a signature feature of Breuer's commercial buildings, and create a lively surface rhythm. The architect, who started out as a furniture designer, loved to use concrete as a material to sculpt and catch the light.
Preservationists rallied to save the property from destruction after it was acquired by Ikea, and it was then bought by Bruce Becker, who heads a nearby architectural practice. His team collaborated closely with the New York firm of Dutch East Design on the interiors. Together they have created a sustainable hotel of great power and beauty that employs the latest technologies but pays homage to a modern master and the timeless rigor of his work.
Becker secured a listing on the National Register of Historic Places for the Marcel, a distinction that offers tax credits for restoration but requires every change to be approved in great detail by National Park Service inspectors. Becker has decades of experience in adaptive reuse but the interior of the Marcel presented many challenges. The building was riddled with asbestos insulation, all of which had to be removed, and the acoustic ceiling tiles replicated. The recessed fluorescent light fittings were rewired for LEDs, and Dutch East designed new acrylic diffusors inspired by the modeling of the exterior concrete panels. Since the new ceiling tiles are fixed in place, these containers double as access points for wiring and other services. All mechanical equipment was replaced, and new windows with triple glazing and frames matching the original frames were installed to reduce energy consumption and block traffic noise from an elevated motorway. Nearly all the guest rooms are ranged along the perimeter; the remaining 14 receive natural light from light wells. The top floor, formerly occupied by mechanical equipment, has been reconfigured as meeting rooms and an events space opening onto an inner courtyard. Solar panels shelter an adjoining car park and generate all the power required by the hotel.
Larah Moravek and William Oberlin of Dutch East custom designed furniture, cabinetry rugs and drapes for the guest rooms, restaurant and public areas to complement the granite pavers, paneled executive offices and terrazzo stairs from the original interior. They employed light and dark toned woods to add warmth and were inspired by the textile designs of the Bauhaus. Becker's wife and partner, Kraemer Sims Becker, is an artist and worked with Dutch East Design to make an enlightened choice of contemporary art works. Together, they have created a habitable work of art that provides a model of unpretentious hospitality.
Location: New Haven, Connecticut, USA
Client: 500 Global
Completion: 2022
Gross Floor Area: 9,950 m2
Architect: Becker + Becker
Interior Designer: Dutch East Design
Main Contractors: Babbidge Construction Company, Consigli
Unless otherwise indicated, photography by Seamus Payne, courtesy Becker + Becker
You might also like: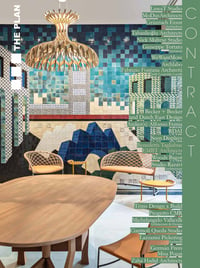 Contract 005
THE PLAN Contract 5 is the fifth special issue that THE PLAN is dedicating to contract furniture, a fascinating and complex sector that brings together mass production and customized spaces. Out in September with THE PLAN 140, the issue features over... Read More
Paper Version
15.00 €
Digital version
5.49 €