This corner of the world exists to host the color Aegean blue, to enable visitors to be guests of nature's bounty, to settle down to their own true rhythms… Such is the philosophy of Bodrum Loft, a spacious residence-hotel set among olive and cedar trees in the peninsula of the same name. It was designed by Tabanlioğlu Architects to enhance the local Aegean culture, its handicrafts and rural communities. Nature, the land, a sense of respect and loyalty to all life, the sun and the wind, are an inseparable thread through this project, which may be considered an alternative concept for tourism, hospitality and sociability.
A multi-unit luxury summer resort, Bodrum Loft's small private cottages and larger dwellings were conceived to interconnect via common spaces, in a structural conformation well-suited to
long-term stays, for some guests over a year.
New forms and bonds of friendship have evolved out of this architecture as a venue for relationships, as much between people as between people and nature. The ensemble design interweaves different thresholds, leveraging not just transparent elements but common spaces to connect the various volumes around courtyards, gardens and green patios, allowing guests to cultivate a sense of being part of a world and a group, and yet as smoothly as they merge, the private and public areas retain their respective functionalities.
Conceived to take advantage of the slant of the sunlight and the area's topography, with its natural air conditioning, the complex's 36 housing units of various sizes are either single-story or duplexes: staying low allows them to slot right into the backdrop. Depending on type, each is equipped with two, three or four bedrooms, for the most part open to the outside via large windows and glass doors and arranged around an open space. In some, guests have unimpeded views from the main entrance through windows on the far side of the hallway out to sea.
The nature of place is evident in the interiors and exteriors, through furnishings and local materials used in their raw state, along with wooden and reed elements. All of these choices cater to the need to strike an ecological balance and create harmony via the colors of furnishings, floors, walls and certain partitions, as ever made of local materials.
Although blue and shades of blue predominate, these colors often juxtapose with warm white, the color of sand, and the more or less dark browns of wood on the structural platforms and water's-edge loungers, immersed among the trees and shrubs that populate the landscape and patios: citrus, laurel, lentisk and olive trees, all documented, classified and analyzed to better preserve and enhance.
The land of Muğla tells its own story through the authenticity of craftsmanship, most evidently in expanses of mosaic flooring and mosaic bottoms in the swimming pools… the spirit of place, perceived in every corner, veritable genius loci.
Location: Bodrum, Turkey
Client: Akfen Real Estate Investment Trust
Completion: 2020
Gross Floor Area: 20,300 m2
Architect and Interior Designer: Tabanlioğlu Architects
Main Contractor: Akfen Insaat
Consultants
Statics: Emir Engineering
Mechanical: Eko Engineering
Electrical: HB Teknik
Lighting: Dinnebier Licht, ZKLD Lighting Design
Landscape: DS Architecture Façade: Axis
Traffic: Hartek
Fire Protection: Etik
All photos courtesy of Tabanlioğlu Architects
You might also like: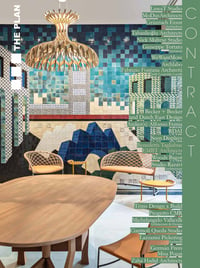 Contract 005
THE PLAN Contract 5 is the fifth special issue that THE PLAN is dedicating to contract furniture, a fascinating and complex sector that brings together mass production and customized spaces. Out in September with THE PLAN 140, the issue features over... Read More
Paper Version
15.00 €
Digital version
5.49 €