Time, color and materiality are the three elements that harmoniously characterize Il Refettorio, a Venetian restaurant located just a stone's throw from the church of San Rocco, in a project that marks a decade of collaboration between the client and Giuseppe Tortato Architetti. The firm was responsible for every aspect of architectural and interior design, from choosing the materials to furniture design. Refinement and attention to detail are key in a space where unique artisanal elements integrate into the old. The resulting design is a "feel good" space, a refined, elegant and timeless place where everyone finds their own dimension.
Entered from Calle San Rocco, the restaurant's 108-sq. m space is divided into two dining rooms. The pewter and ebony bar immediately to the right is the centerpiece around which restaurant life revolves. Two metal bars run the length of the front wall, reminding us of major high water events in Venice. The second dining room's more intimate atmosphere is framed on two sides by a suspended, exposed, concrete staircase with a burnished metal handrail and handcrafted railings created from woven metal strips. Special care was lavished on the choice of materials, bearing tangible witness to the passage of time, and balancing the old and new through juxtaposition.
The restaurant design's hallmark feature is its use of color to provide a synthesis of Venice, running from blue water to red brick and gray plaster. These eye-catching colors lend character to the interiors, alongside light oak tables and chairs, dark-hued furnishings, and, starring throughout, light blue terracotta flooring. From interlocking table joints to lighting fixtures, no element was left to chance, every detail was studied and designed especially for the venue. The design paid particular attention to metal finishes, for example on skirting boards that highlight the brick walls, and an iron grating whose geometry required considerable research, in clear homage to Carlo Scarpa and modern Venice.
Giuseppe Tortato's design philosophy is underpinned by natural materials and his evocation of sensory experiences. The restaurant's esthetic tells a harmonious story without resorting to excess, in which attention to detail and refined combinations reflect the restaurant's very philosophy.
Location: Venice, Italy
Client: Majer Venezia
Completion: 2021
Gross Floor Area: 108 m2
Interior Designer: Giuseppe Tortato Architetti
Main Contractor: ZP Arredamenti
All photos courtesy of Giuseppe Tortato Architetti
You might also like: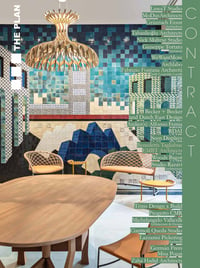 Contract 005
THE PLAN Contract 5 is the fifth special issue that THE PLAN is dedicating to contract furniture, a fascinating and complex sector that brings together mass production and customized spaces. Out in September with THE PLAN 140, the issue features over... Read More
Paper Version
15.00 €
Digital version
5.49 €