A former women's prison in Berlin's Charlottenburg district has been converted into a hotel that is an oasis of peace, a place to take refuge from the hustle and bustle of city life. Originally built in the late 19th century, the Kantstrasse complex surrounded a number of courtyards populated with lush vegetation. Grüntuch Ernst Architekten's restoration and expansion scheme breathed new life into this forgotten structure, which had been in a state of neglect for decades. The site originally presented two separate volumes, one facing the street, containing the courthouse, and the other containing the jail, in the more internal portion. Post-redevelopment, the first building now houses the Amtsalon, a dedicated art and culture event space, the second the Wilmina hotel with Lovis restaurant.
Guests enter the complex by walking through a sequence of green spaces until they reach the hotel lobby, an airy space with a particularly high ceiling. From here, a corridor to the left leads to a lounge with a fireplace; to the right, a staircase leads to the atrium, the centerpiece of the whole design. Lit by a large skylight, the verticality of this full-height room is heightened by a light installation of spherical hanging lamps. As the sun's rays travel along the light-hued brick back wall, lamps descend alongside the balconies and their wrought-iron balustrades, off which are the doors to the bedrooms, carved out of the former cells. The bedrooms differ in layout and size, ranging from small alcoves of 11 sq. m to the 75-sq. m "Garden Loft". These new spaces strike up a dialogue with the building's history through design solutions like the one adopted for the windows: the barred opening that formerly illuminated the cell has been retained, expanded in height by adding another glazed portion below, opening up views to the garden below. Four of the hotel's five floors already existed. The fifth penthouse floor, featuring minimalist décor and large windows, is a new add-on. The hotel's common areas include a bar, library, spa and gym, as well as a rooftop terrace.
The yard has been repurposed as the Lovis restaurant, also run by the same family business. Encased in red brick walls and topped with a roof garden, the dining room is surrounded by a forest of trees, shrubs, hedges and climbing plants.
The interior's warm colors and soft lighting create a relaxing atmosphere and refined ambience in this paradoxical former prison, by definition at the antipodes of the concept of comfort and sociability, transformed into a welcoming, modern hospitality structure, a green island within Berlin's urban fabric.
Location: Berlin, Germany
Client: Wilmina Completion: 2022
Gross Floor Area: 3,400 m2
Architect and Interior Designer: Grüntuch Ernst Architekten
Main Contractor: Ingenieurbüro Weltzer
Consultants
Structures: GTB - Berlin, StudioC
Landscape: atelier le balto, Christian Meyer Lanscape
All photos courtesy of Grüntuch Ernst Architekten
You might also like: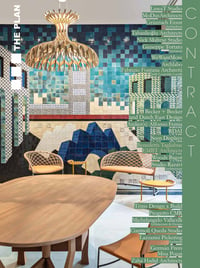 Contract 005
THE PLAN Contract 5 is the fifth special issue that THE PLAN is dedicating to contract furniture, a fascinating and complex sector that brings together mass production and customized spaces. Out in September with THE PLAN 140, the issue features over... Read More
Paper Version
15.00 €
Digital version
5.49 €