Marketing and communication multinational WPP has opened its new Milan Campus at a site formerly used as a factory by the Richard Ginori ceramics company, on the banks of the Naviglio Grande canal in the city's historic San Cristoforo district. This innovative, modern hub, hosting up to 2,000 professionals and the firm's 35 agencies, spreads across an industrial building originally built in 1830, and until recently home to the well-known ceramics firm. Working with local partner 967ARCH, London-based WPP Group company BDG Architecture + Design redeveloped this 250+ meters long, two-level 27,000 sq. m space, maintaining and enhancing the existing building while completely renovating and reconfiguring its interior to high environmental standards.
By transforming the building into a flagship hub for creative talent, the new headquarters for Europe's second largest industry player has brought a Milan industrial landmark back to life. WPP's new HQ unites all of the group's companies – formerly located in nine different locations – under a single roof to foster cooperation, synergy and transversality.
Multiple walkways connect the two blocks of the former factory, a listed building and landmark in this part of Milan, enclosing inner courtyards dotted with palm trees and other vegetation. The interior design expresses an essential and functional concept through a palette of colors and materials in neutral and relaxing tones: the rigor of black and white surfaces combines with warm parquet, while the plants and seating in relaxation areas add a hint of color. Shed-style roofing typical of industrial architecture allows zenithal illumination of the rooms along the building's central strip, supplemented by 100% renewable-powered LED lighting.
Agency workstations are laid out in large, bright, open spaces conceived to accommodate work and social time. The structure houses large communal zones, refreshment areas and numerous meeting rooms, as well as a host of amenities for employees that run from a supermarket to a pharmacy and even a laundry, to all intents and purposes making the complex a mini-city within the city of Milan.
The WPP Milan Campus's focus on user wellbeing is bolstered by the sustainability-inspired approach that underpins its design, conceived for BREEAM certification, which it recently obtained, with an expected annual environmental impact saving of 12,000 MWh of energy, 6,900 tons less CO2, waste reduced by 15 tons, and 13 million liters less water used.
Location: Milan, Italy
Client: WPP
Completion: 2021
Gross Floor Area: 27,000 m2
Preliminary Architecture and Interior Design Project: BDG
Executive Architecture, Interior Design Project and Construction Management: 967ARCH
Services and Structural Consultant: Hoare Lea (Preliminary Project), ESA engineering, SCE Project (Executive Project and Construction Management)
Main Contractor: Temporary Consortium comprising Setten Genesio and Ediltecno Restauri
Photography by Andrea Martiradonna, courtesy of 967ARCH
You might also like: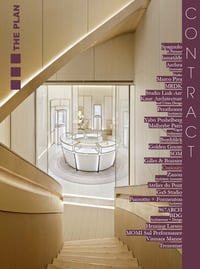 Contract 004
THE PLAN Contract 4 will be released in April 2022 as a supplement in THE PLAN 137. This fourth special issue of THE PLAN devoted to commercial interior design and architecture takes readers on a journey through the latest and most important Italian ... Read More
Paper Version
15.00 €
Digital version
5.49 €