The Raro House of Fashion brand's New Delhi retail space reflects the boom in women's fashion on the Indian subcontinent, based on traditional materials and details combined with contemporary cuts and fitting. Against this transformative backdrop, Raro House of Fashion brings together two lines, Matsya and Basanti Ke Kapde, that share the same spirit of innovation expressed in two different ways. The interior design for the New Delhi store reproduces this duality, carving out two visually-connected areas within a rectangular 930 sq. m space on level two of a mall in the industrial area of Naraina.
The shopping experience starts at the central atrium, accessed via a staircase adjacent to the north elevation of the east/west-oriented building. Conceived as a reproduction of an outdoor courtyard, this space acts as the composition's hub, housing the checkouts and a children's play area. The wall behind the checkout desk is decorated in a hand-painted mural, reflecting the attention to handcrafted details that sets both brands apart. Either side of this center of gravity, the store's two areas are further subdivided into smaller spaces, each defined by their display layouts: for greater intimacy, the space dedicated to Matsya's bridal atelier is located to the rear of the store; the area occupied by Basanti, which sells more casual clothes, runs along the veranda towards the front.
Differentiation of the two brands' sectors extends beyond the space distribution to embrace the choices the Studio Lotus designers adopted for finishes, lighting and furniture solutions. The concept for the Matsya area references ancient Indian temple architecture, evoking a mystical atmosphere via an interplay of light and shadow, dark stone/cement coverings, blown-glass lamps, and brightly-colored velvet sofas. In the Basanti zone, the color palette is generally lighter and brighter, with beige walls, lighter-colored wooden flooring, and upholstered, floral-patterned furniture, also in lighter-colored wood. Although the twin characterization of spaces helps underline each space's identity, without let or hindrance visitors are able to wander freely across the entire floor space.
With its inclusive approach and tight focus on detail, the consistency of the store's design is a hallmark of New Delhi-based Studio Lotus, which has been working in India for almost 20 years, in close contact with the local context and its varied cultural influences.
Location: New Delhi, India
Client: Raro House of Fashion
Completion: 2020
Gross Floor Area: 6,900 m2
Interior Design: Studio Lotus
Main Contractor: Best Buildwell
Consultants
Structural and MEP: Imagination
Landscape: Soka Design Studio
Photography by Avesh Gaur, courtesy of Studio Lotus
You might also like: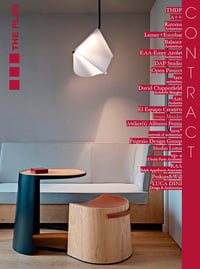 Contract 003
The third issue of our special dedicated to contract furnishing and design features projects with lots of green spaces and a focus on the wellbeing of users. Projects, in other words, that respond to a new awareness that emerged during the pandemic. ... Read More
Paper Version
15.00 €
Digital version
5.49 €