The new logistics hub for Vimar, a long-established company specializing in electrical equipment and home automation systems manufacturing, is conveniently sited along one of the main access routes to the city of Marostica, in the Italian province of Vicenza. The company commissioned the new facility to bring together warehouses and offices previously located elsewhere, uniting them with its manufacturing plant at a single, company-owned premises. For the designers at Atelier(s) Alfonso Femia, the firm in charge of the entire process from town planning to final works testing, the main challenge was unified management of this mixed-use facility.
The new complex's 44,300 sq. m effective floorspace is divided into three functional areas: a warehouse for finished products, a warehouse for semi-finished products, and the manufacturing plant, alongside a tech hub and areas dedicated to offices and services. Work was split into two phases: the first, construction of a single-story industrial building with zenithal lighting for the warehouses, along with a technology hub and loft equipped with labs and offices; the second, construction of the two-level building: a lower level dedicated to manufacturing, and an open-plan upper level divided into two macro-areas - a manufacturing zone to the east, and a management area to the west. These two are joined by connective links that run through the double-height hall, which also houses waiting areas and meeting rooms near the dedicated R&D and additional operational areas.
The upper level benefits from multiple courtyards and hanging gardens, conceived to improve comfort in the overlooking spaces, while at the same time ensuring light and ventilation for the lower floor. Employee amenities are available in proximity to the offices: a company canteen on the north side - overlooking a terrace towards Marostica Castle and an internal courtyard -, and a relaxation area enclosed between twin courtyards. Meeting rooms and training spaces are arranged along the south side, just above the entrance hall. The offices, which look west, are accessed via a central north-south corridor; indeed, the workspaces look out either from the building's main elevation or onto an inner courtyard. To complement the individual offices, open-plan office space is equipped with movable internal partitions for greater flexibility. In the basement, a garage offers 50 or so parking spaces, two ancillary storage rooms, and a fire-protection tank.
Moving on to materials, wood predominates throughout the interior in collective spaces, and glass in operational areas. The façade is clad in biodynamic cement panels designed by Alfonso Femia - AF*Design. As for color, the spaces are characterized by a backdrop of neutral tones, enlivened by a handful of yellow elements to reference the company logo. Conceived to be in dialogue with the surrounding agricultural landscape and town, the relationship between internal and external space was a key theme during the design stage, enhanced by meticulous research into natural and artificial lighting.
Location: Marostica, Vicenza , Italy
Client: Vimar
Completion: 2021
Gross Floor Area: 44,303 m2
Architect, Landscape and Interior Designer: Atelier(s) Alfonso Femia
Main Contractor: Italiana Costruzioni
Structural, Services and Environmental Engineering Consultant: for Engineering Architecture
Photography by Stefano Anzini, courtesy of Atelier(s) Alfonso Femia
You might also like: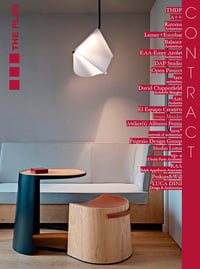 Contract 003
The third issue of our special dedicated to contract furnishing and design features projects with lots of green spaces and a focus on the wellbeing of users. Projects, in other words, that respond to a new awareness that emerged during the pandemic. ... Read More
Paper Version
15.00 €
Digital version
5.49 €