Swedish company Effective Communication was eager to create a fresh, youthful working environment with dedicated spaces for relaxation and socialization when they set about establishing their new Barcelona headquarters in the Poble Nou district - a former industrial zone near the coast known today as 22@, after being transformed into the city's new technological and artistic hub. Inspired by the beach, the Spanish El Equipo Creativo firm's interior design has transformed this workplace by adopting a marine metaphor for its 1,000 sq. m of functional areas and 150 sq. m outdoor terrace.
The largest space in the new headquarters, a dedicated call center, features acoustic enhancements built into the ceiling, where an explosion of bright colors resembles beach towels, complemented by carpeting in different shades of blue that simulate the sea; light-colored wooden desks are juxtaposed with the bright tones of chairs and workstation divider panels. A glass wall visually connects the call center with a cafeteria area and its equipped kitchen; here, the flooring is a geometric pattern in blue, white and light blue, with white acoustic panels suspended from the light blue ceiling like clouds in the sky. At lunchtimes, employees sit on colorful stools at surfboard-shaped high tables, or on wood and canvas seats redolent of beach chairs in the space that overlooks an outdoor terrace. The offices' ultimate socializing space is furnished with lounge chairs, a ping-pong table, a pool table and even a kiosk for Friday evening aperitifs.
Enlivened by plants and decorated with colorfully-striped metal curtains whose hues are mirrored in the flooring, the main entrance is also beach inspired. Even the bathroom walls are decorated with vintage graphics depicting lush palm trees and characters from the world of seafaring.
Effective Communication's philosophy of creating a relaxed and - why not? - fun atmosphere at work is perfectly executed in El Equipo Creativo's interior design concept for their new Barcelona premises. Led by Oliver Franz Schmidt, Natali Canas del Pozo and Lucas Echeveste Lacy, the firm's design approach very much focuses on user experience, reconciling work and social life to improve employee wellbeing and, in the process, enhance productivity. Much like our image of the city of Barcelona, this dynamic and sunny space conveys energy and optimism, welcoming the Swedish company's team with its temperate climate and famous nightlife.
Location: Barcelona, Spain
Client: Effective Communication
Completion: 2021
Gross Floor Area: 1,150 m2
Interior Design: El Equipo Creativo
Main Contractor: 4retail
Photography by Adrià Goula, courtesy of El Equipo Creativo
You might also like: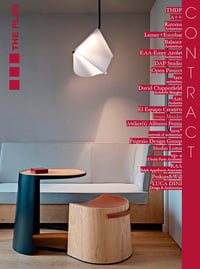 Contract 003
The third issue of our special dedicated to contract furnishing and design features projects with lots of green spaces and a focus on the wellbeing of users. Projects, in other words, that respond to a new awareness that emerged during the pandemic. ... Read More
Paper Version
15.00 €
Digital version
5.49 €