Patrick Jouin and Sanjit Manku founded the Jouin Manku studio in Paris 15 years ago to combine their professional experience. Viewing every project as an opportunity to re-invent themselves, to come up with a concept that is always new, the designers' special partnership has created a métier at the crossroads between industrial production and traditional craftsmanship. A creative laboratory dedicated to interior design, the practice works closely with the Patrick Jouin ID practice, which has a more specific focus on industrial design. One of the hallmarks of the Jouin Manku philosophy is to break down the boundaries between architecture and design, between space and product. They approach every one of their projects holistically, considering every aspect, from ceiling height to door handles, at all scales.
With the Hotel Les Haras expansion project in Strasbourg, the main challenge was to maintain a sense of unity while moving from one building to the next. Working on a 19th-century building that formerly housed a clinic, just across the street from the former royal stables that is now a hotel, the project entailed the creation of a spa, a number of meeting rooms, and 60 new hotel rooms. Having previously worked on the interior design of the hotel and its restaurant, Jouin Manku rose to the challenge, ensuring continuity between the existing hotel and its extension by refurbishing an old, abandoned tunnel between the two buildings. While the new bedrooms' contemporary design contrasts with the façade's classical majesty, the interior design incorporates a series of subtle references to the equestrian world, through a focus on wood and leather as materials, and visual references to Chinese and herbal medicine. With its swimming pool, sauna, Turkish bath, emotional shower and relaxation area, the wellness center was designed
to be an all-encompassing environment that takes guests on a peace-enhancing, relaxing sensory journey.
For the Van Cleef & Arpels boutique on Place Vendôme in Paris, Jouin Manku was invited back to a project the firm had handled previously, to add a new two-level space above a renovated main ground floor level. Retaining the underlying concept previously expressed through carved plaster walls and carved wood paneling, they redesigned the interiors to make them more open, much like a museum, only displaying perfumes, jewelry and watches, and adding new features and experiences.
The exotic setting of the La Mamounia Hotel in Marrakech, where Jouin Manku renovated the common areas, warranted a completely different design approach for a number of new spaces. The studio's design for restaurants and a tea room deployed a contemporary approach conceived to enhance the legendary Moroccan hotel's traditional appeal.
The practice also works in the nautical sector, reinterpreting historical backdrops with designs that provide continuity while offering breakthroughs. The centerpiece of the interior on the Celebrity Edge cruise ship, the Grand Plaza, is more like a piazza than a large hall, housing multiple restaurants in a space that spans three decks at the heart of the ship. Inspired by the glamorous days of travel by transatlantic cruise liner, the space is dominated by a veritable art installation that lights up this huge hall, a chandelier so spectacular it is known simply as "The Chandelier".
Interview
Translating dreams into reality
Patrick Jouin and Sanjit Manku
Founders Jouin Manku
You define yourselves as "neither architects nor designers". What characteristics do each of you bring to your work and to the studio's projects?
We have been working together for a long time now. Right from the start, each of us coming from our own background, what we have tried to do is create special moments for people, things that do not yet exist in this world. Whether it is dinner or walking to the station to catch the train, we have always striven to make ordinary moments extraordinary. To achieve this requires breaking down all boundaries between architecture and design… or if you prefer, between scents and sounds. To make something that truly touches people's emotions, we knew we had to go beyond the barriers that normally fence off the majority of the professions we practice. Sanjit Manku studied architecture, and wrote a dissertation on industrial design; Patrick Jouin studied design, and wrote a dissertation on architecture. We were never comfortable with the idea of filling just one role or the other. We work in a very fluid way, like two jazz musicians who meet, improvise and then come up with results that neither of them could possibly have imagined.
Using the Hotel Les Haras expansion project as an example, could you describe the main stages of your creative process?
First and foremost, we aim to combine the client's dreams with the reality of the specific place, and then blend that with our own insight. On this particular project, the client was Professor Jacques Marescaux, a specialist in microsurgery and Chairman of IRCAD, an institute that does research into cancer of the digestive tract. Every year, the institute runs training courses for thousands of surgeons from many different countries. Professor Marescaux came up with the idea of building a hotel rather than renting out rooms all over Strasbourg to accommodate the doctors who come to town to attend his classes. That led to the project to convert the former royal stables near the University Hospital into the Hotel Les Haras. Later, Professor Marescaux decided to expand the hotel into another historic building across the street, a former clinic run by the Sisters of the Community of the Deaconesses, a place of spiritual and physical healing. Starting from its fascinating history, we slowly began to weave together a connection with the former royal stables next door.
How did you balance the building's historical legacy with its new use?
As well as the bedrooms, spa and conference space, the hotel has medically-equipped rooms for people who have just left hospital but are not yet ready to return home. We created a kind of halfway house, where people can convalesce in a pleasant environment. As if in a dream, we put together a series of references to the building's history: on the ground floor, a large wall decorated in plaster that represents various medicinal plants; in the bedrooms, very special lamps made out of white fabric, a stylized version of the headgear the nuns wore. We strove to retain small touches of the building's history, and then began looking to the future, defining people's needs today, combining all these layers to create a unique experience.
On this commission and others, you have been invited back to work on a job you have done in the past. How do you approach this challenge?
It is a privilege to be called back to work on a job: it means that when something needs changing, the client has sufficient faith in you to ask you back. That said, there is usually some reason why people ask you to remodel a job. It could be a change in expectations, some practical factor, perhaps a new service they want to offer… There is always something new to add to the picture, which is why we always try to make the most of the project's potential, to create a new reality that stays as true as possible to the initial idea. Most people stop with this process when they get to 60%, because it is incredibly stressful to push that to 90% or more. When you go back to a project, it is always different. So much depends on the artisans you work with, not to mention the people in your own team. The great thing is, you already know the client; there is more trust on both sides, so everyone can be a little more daring. You are more in touch with the context, you have already established a relationship with local artisans… It is a chance to learn from your mistakes, to improve your use of materials and the design of construction details.
The most commonly-used material throughout the hotel's new spaces is wood. What were the aesthetic and functional reasons behind this choice?
Because the location is near a region of forests, wood as a material is easy to source locally, and that aspect is very important. Plus, the job was on an old building, built out of stone and wood. Then there is the fact that we know wood is a material that once had a life; every piece has a story it whispers. Stone, too, tells stories; even older ones. In chromatic and tactile terms, people always associate wood with an idea of warmth, but the main thing is, wood leaves you with a sense of its past, a comforting feeling, like listening to your grandparents share their memories.
How do you find a balance between the skill of reinventing yourself on each project, and the need to preserve the firm's style?
When we approach a project, we try and evoke a particular emotion. It is not about thinking what we could do, it is about what the right thing is to do. We respond to this through what we refer to as "emotional choreography". For instance, at the Hotel Les Haras, we could have sited the spa on the ground floor, but we decided against that, because it would have meant an over-rapid transition. Instead, visitors to the spa have to follow a path, slough off their thoughts before being ready for the relaxation experience, going downstairs and through a long tunnel. As the outside world begins to recede, they discover a new space. One element is revealed after another, until they see the reflections coming off the water. It requires shapes and materials, in the right proportions, to build a sequence of emotions: esthetics is merely the final step.
At the Hotel Les Haras, you were invited to take the building's history into account, but the geographical context was still Strasbourg. In the new space at the La Mamounia Hotel in Marrakech, on the other hand, you combine Moroccan tradition with European influences. Culturally-speaking, how were you able to find the right solution?
It is a bit like the question of generations. Every generation wants to be different from past generations. You respect your grandparents, but you do not want to live in the same house as them. It means being very good at listening: even a beautiful place winds up as a museum if nobody is visiting, and that is a real shame. Because we love places that have their own life, we try to figure out how to get people to notice something they have not noticed before, to look at things differently. For example, despite its beauty, the tea room at the La Mamounia Hotel was a dead space. We set to work to find the right solution for that particular space. The reason we put the chandelier up was because it invites people to look upwards, at the spectacular dome and its decorations, rediscovering something that they have always loved. Figuring out how far you can take this is the hard part, but we would like to think that we are always careful about striking the right balance. The idea is to add a small amount of energy to a place so that it starts vibrating differently, enough to come alive again.
Hotel Les Haras
Location: Strasbourg, France
Client: Hotel Les Haras
Completion: 2021
Gross Floor Area: 1,720 m2
Architect and Interior Designer: Jouin Manku
Executive Architect: Lucquet Architectes
Main Contractor: Beaujard
Lighting Consultant: Studio Vicarini
Photography by Nicolas Mathéus, courtesy of Jouin Manku
You might also like: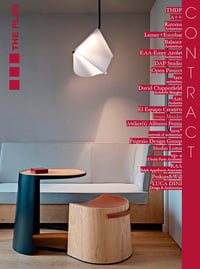 Contract 003
The third issue of our special dedicated to contract furnishing and design features projects with lots of green spaces and a focus on the wellbeing of users. Projects, in other words, that respond to a new awareness that emerged during the pandemic. ... Read More
Paper Version
15.00 €
Digital version
5.49 €