Two new functional and sustainable apartment skyscrapers immersed in greenery are set to rise on the Milan skyline. Park Towers is a residential complex due to be erected in the Feltre district overlooking Lambro Park, not far from Lambrate railway station. Equipped with jogging areas, bike paths and a playground, the vibrant metropolis meets the quiet of nature here to foster a healthy, dynamic lifestyle. This Bluestone real estate venture was designed by Asti Architetti. The apartments benefit from luxury finishes and eco-friendly materials. Future buyers have the option of commissioning an interior design service to fully-customize their real estate unit.
This urban regeneration project starts with the demolition of former industrial buildings prior to constructing three residential-use
buildings within a green area of some 5,000 sq. m reserved for residents, featuring a tree-lined avenue along its spine. The complex has two towers, 23 and 16 stories high, a four-story in-line building, and service areas in the basement. Although the three volumes differ in shape, type and materials, because they are all transparently anchored to the ground, they ensure visual permeability along the entire length of the lot. Featuring broad, plant-filled, loggia-style terraces, the towers contain 106 apartments in a variety of sizes, in addition to floorspace set aside for multiple needs. The lowest building, located along Via Privata Ruggero Ruggeri, houses 23
two-room apartments and Wi-Fi-equipped common areas, co-working spaces and a gym. The basement provides 120 lock-up garages, a bicycle workshop and electric vehicle recharging columns.
The buildings were arranged across the lot to maximize views and sunlight exposure. To ensure healthy air exchange within the apartments, each unit is equipped with an autonomous controlled mechanical ventilation/heat recovery system. The A-class-energy-specification residential complex incorporates hi-tech solutions like a home automation control system. Conceived as a continuation of Lambro Park, the complex's extensive private parkland is dotted with mini-piazzas along its central axis; the park showcases a mix of colors and scents in its alternating lawns, shrubs, trees and flower beds. The design also features an area set aside for allotments, a pet zone, and a children's play area.
Location: Milan, Italy
Developer and Interior Designer: Bluestone
Gross Floor Area: 8,000 m2
Architect: Asti Architetti
Renderings by Echoo Studio, courtesy of Asti Architetti and Bluestone
You might also like: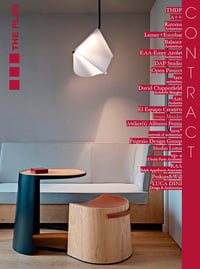 Contract 003
The third issue of our special dedicated to contract furnishing and design features projects with lots of green spaces and a focus on the wellbeing of users. Projects, in other words, that respond to a new awareness that emerged during the pandemic. ... Read More
Paper Version
15.00 €
Digital version
5.49 €