Rizoma Architetture's restyling project for the interior spaces at the Lugano Dante set out to transform a classic hotel into a contemporary boutique hotel destination in the Swiss city's old town, a stone's throw from the funicular to the train station and lakeside promenade. The new concept for the hotel's rooms and common areas enhances the hotel's status as a venue open to the city, offering work, culture, and entertainment-related activities in an urban hub where tourists and locals may attend a conference, take part in an event, enjoy a meal, or quaff an aperitif.
The ground floor hosts a reception area, cocktail bar/lounge, and dedicated breakfast buffet/restaurant room in spaces that flow from one another, enriched by a great many plants and a variety of garden walls, from the lush, vegetation-covered gazebo in the entrance hall to the roof terrace vegetable garden. All of this greenery helps create an immersive and multisensory experience, the principles of biophilia enhancing guests' physical and mental wellbeing. The hotel's public areas feature a second-level multipurpose space known as the "Creative Box", equipped with movable walls and soundproofed curtains. A portion of the glass-enclosed Creative Box is equipped with a stabilized green wall and light panels that simulate circadian rhythms. Designed with adaptable flexibility to cater to a variety of needs and configurations, it can host business meetings, conventions or more informal events. With different types available to differentiate the hotel's accommodation offering (singles, doubles, superior and studio suites, plus a twin-level loft), most of the hotel's 84 bedrooms on the upper floors have been modernized; some have been completely renovated.
To maintain design continuity, natural materials were used throughout the bedrooms and common areas, not just wood but hints of blue and green that reference the Lugano landscape, mountains and lake, along with dashes of red and fuchsia. An elegant combination of canaletto walnut and petrol blue reappears in a number of different spaces. While maintaining consistency in its materials and colors, the glamorous feel of the hotel's common areas, with illuminated signage and brightly-colored upholstery, yields to a more intimate atmosphere in the soft-toned, soft-lit bedrooms. Without sacrificing more traditional elements of Italian and international design, innovative and iconic solutions were adopted for the finishes and furnishings, made ad hoc for this hotel.
Location: Lugano, Switzerland
Client: Hotel Lugano Dante Center
Completion: 2020
Gross Floor Area: 3,750 m2
Architect and Interior Designer: Rizoma Architetture
Main Contractor: Ugo Bassi
Interiors Contractor: febc europe
Unless otherwise indicated, photography by Tiziano Scaffai, courtesy of Rizoma Architetture
You might also like: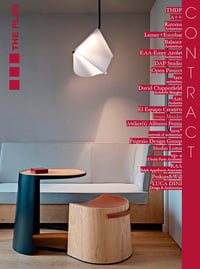 Contract 003
The third issue of our special dedicated to contract furnishing and design features projects with lots of green spaces and a focus on the wellbeing of users. Projects, in other words, that respond to a new awareness that emerged during the pandemic. ... Read More
Paper Version
15.00 €
Digital version
5.49 €