Palumbo Superyachts brand Columbus Yachts has enhanced its fleet with the addition of a new 50-m Sport line yacht, alongside its multi-award-winning 40-m models that came out a decade ago and revolutionized the stylistic characteristics of the time with a vertical stern and a streamlined line.
Launched at the firm's Ancona shipyard, the new 50 meters Sport M/Y K2 combines new aesthetic touches with a host of new solutions, applying advanced hull engineering to ensure high levels of comfort even when sea conditions are rough. Palumbo Superyachts worked on the naval engineering in partnership with HydroTec; Luca Dini Design & Architecture was responsible for the yacht's external lines and interior design.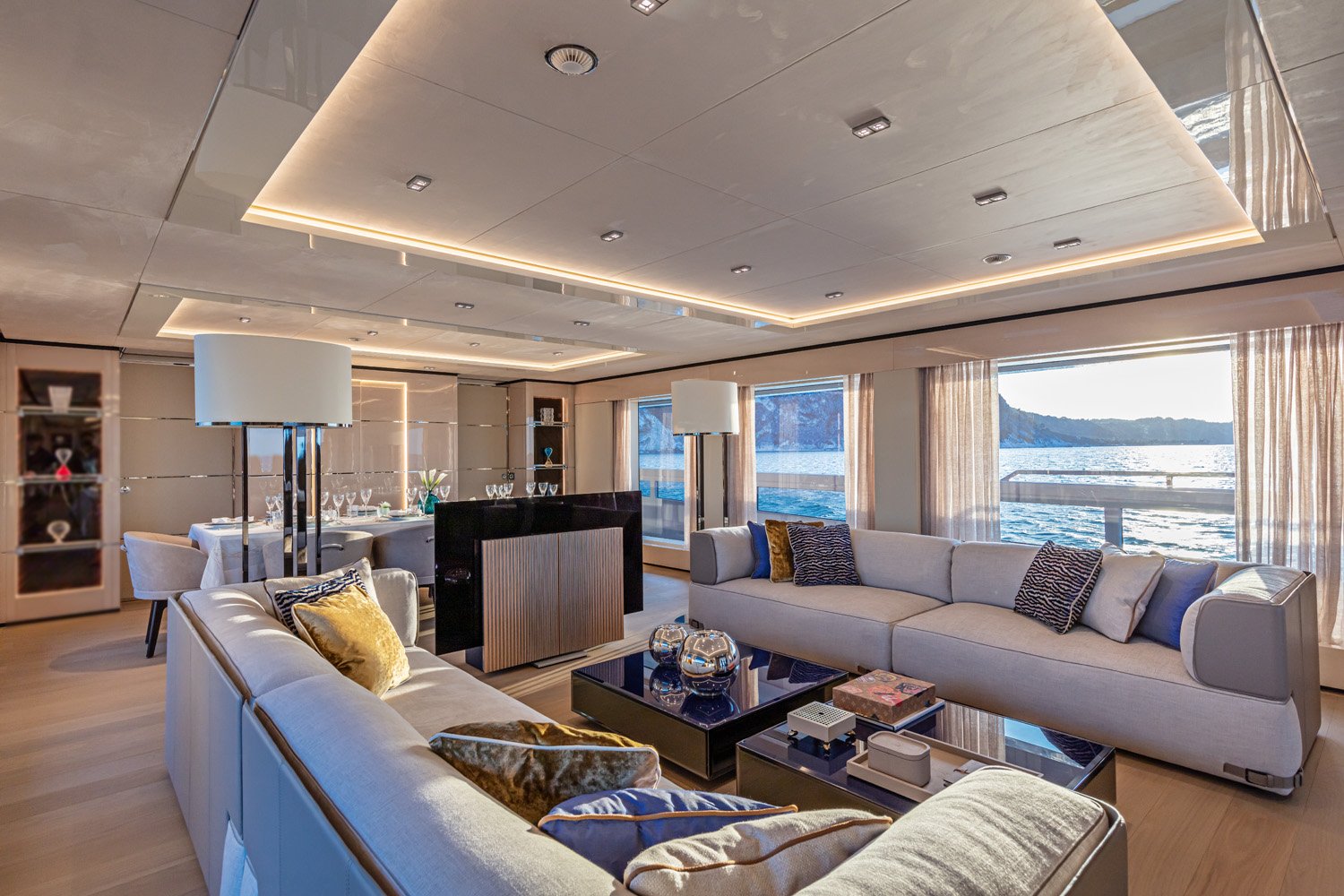 The yacht's aluminum hull and superstructure accommodates 11 guests in five comfortable cabins, plus 11 crew members in a further seven cabins. Weighing in at 499 GT and with a maximum draught of 2.2 m, the yacht is able to ply shallow seas. Powered by two 2600 hp MTU engines, the yacht can reach a maximum speed of 21.5 knots and cruise at 17 knots, offering a sufficiently long range for transoceanic crossings. It consumes just 70 l of fuel per hour at 10 knots. The designers focused on minimizing noise and vibrations: sea tests confirm that noise levels in guest rooms are exceptionally low.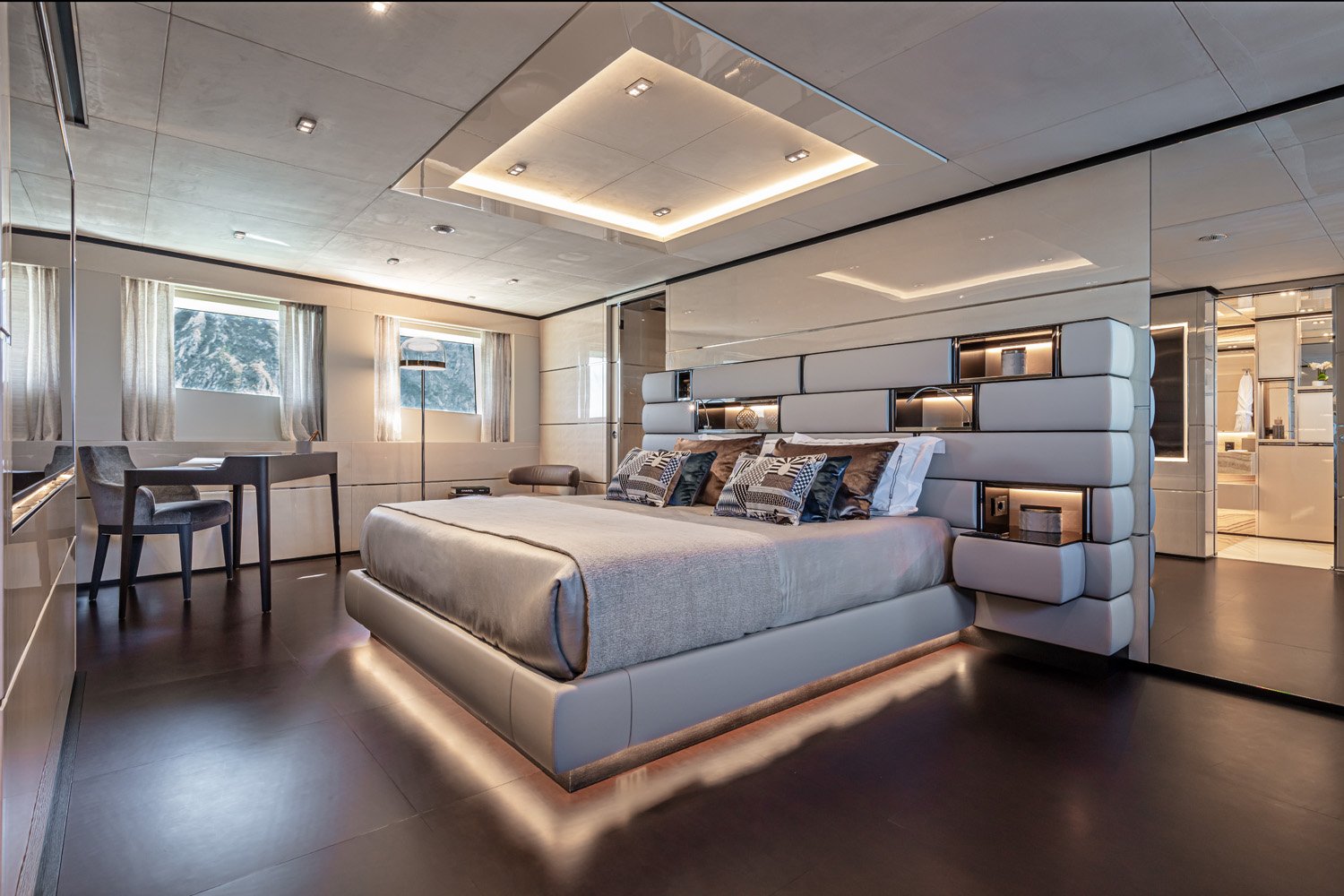 The vessel's essential, welcoming, bright interiors were designed with a light-shaded color palette. The most-used material is wood, predominantly Ziricote and Tanganica Frisé, which were chosen for their exotic, deco character, juxtaposed with steel detailing and the softer textures of leather and fabrics on the upholstery. Cappuccino-colored onyx and Lasa white zebra marble clad the bathrooms. The yacht features a number of outdoor spaces for people to congregate, including sun-shading options to enhance usability. Bars and dining rooms are available indoors and outdoors on two decks; a "beach club" corner offers a large relaxation area with a retractable, 4-sq. m platform. The skylounge area is dedicated to entertainment, with a TV screen and card table; on the upper deck, the bow features a swimming pool with Jacuzzi, accessible from the steering well via two wide, lateral walkways. A fitness area with gym and hammam is located in the bow on the main deck, in the owner's quarters. Lastly, the craft is equipped with additional sea vehicles: a 3.31 m Sea-Doo jet ski, and a 6.5 m Castoldi Jet tender 21, positioned at the stern on the lower deck.
Completion: 2021
Design: Columbus Yachts
Exterior and Interior Design: Luca Dini Design & Architecture
Photography by Alberto Cocchi, courtesy of Columbus Yatch
You might also like: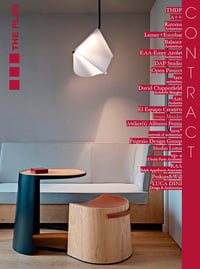 Contract 003
The third issue of our special dedicated to contract furnishing and design features projects with lots of green spaces and a focus on the wellbeing of users. Projects, in other words, that respond to a new awareness that emerged during the pandemic. ... Read More
Paper Version
15.00 €
Digital version
5.49 €