The Bonfiglioli Riduttori headquarters in Calderara di Reno, near Bologna, is an architectural work that was conceived for people but designed for innovation, boasting notably high energy performance. NZEB (Nearly Zero Energy Building) specification compliant, the 50,000 sq. m building's multiple levels provide space for manufacturing and management, keeping the entire supply chain at a single location to embody a horizontal vision of the work the company does.
The plant expansion and redevelopment design by Open Project is a ground-breaking vision of the production plant, conceived no longer as a building unrelated to the headquarters but as an integral part of a company's identity. Indeed, the production area is separated from the offices by just a glass wall, while the R&D department is reached via a suspended walkway over the factory floor. Internal courtyards offer ever-present green views from work spaces and the restaurant/canteen. Visual and functional continuity are ensured by the underlying interior design concept: to create ample spaces for co-working and sharing, using finishes and furniture solutions that combine durability with ease of maintenance and functionality.
The building's entrance is reached via a long portico that guides employees and visitors to the glassed-in entrance hall and its benches and cushioned sofas. Outsized Calacatta Oro marble-effect ceramic floor slabs continue up and onto the front of the reception desk, which stands out against the wall behind it and is clad in
weathering steel-effect porcelain stoneware slabs. Added contrast comes from the light-colored finish of the hand-spackled concrete floors in the complex's operational spaces, which range from an open-plan area to single and double offices and meeting rooms, all infused with material and chromatic continuity. Neutral tones of white and oak predominate through a variety of size and composition solutions conceived to cater to multiple needs. The lounge and smart-working areas built into the open space are characterized by brighter colors - green, orange and purple; blue was chosen for the upholstered seating and rear wall in the canteen, offset by light-wood tables and chairs.
Workstations are organized to ensure maximum flexibility and comfort, leveraging versatile and modular furniture such as open elements, cabinets for storing personal items, and clothes-hanging compartments. Employees on short breaks can take advantage of relaxation areas with vending machines, equipped with high tables and stools. In addition, waiting areas with tables, plant-inspired seating and lime green carpeting redolent of outdoor spaces are dotted around the walkways by the closed offices. Phone booths lined with sound-absorbent fabric add a dash of color to the rooms set aside for smart working.
Location: Calderara di Reno, Bologna, Italy
Client: Bonfiglioli Riduttori
Completion: 2020
Gross Floor Area: 50,000 m2
Architect and Interior Designer: Open Project
Main Contractors: CMB, Ing. Ferrari
Furniture Contractor: Paolo Castelli Spa
Landscape Consultant: Frassinago
Photography by Andrea Brintazzoli, courtesy of Open Project
You might also like: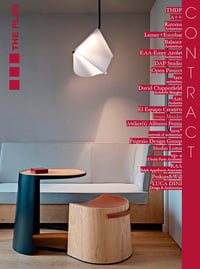 Contract 003
The third issue of our special dedicated to contract furnishing and design features projects with lots of green spaces and a focus on the wellbeing of users. Projects, in other words, that respond to a new awareness that emerged during the pandemic. ... Read More
Paper Version
15.00 €
Digital version
5.49 €