At the Hotel Saltus in San Genesio, in the Italian province of Bolzano, the hallmark design features are generous spaces and large windows overlooking the Alpine landscape from the hotel's location on the southern slope of the Tschögglberg mountain, 1,100 m above sea level, between the Salten Plateau, the red porphyry Sarntal Alps, and the Dolomites. Hugging the location's topography, the hotel's three wood-clad volumes offer 28 rooms, a lobby, a wellness area and a bistro, as well as a typical South Tyrolean inn next door, the Tschögglbergerhof, exclusively for hotel guest use.
Designed by tara architekten of Merano, the project's focus was to create a strong relationship with the surrounding mountainscape, evident in the wooden staves on the façades and a large, full-height glass lobby window that forges an immediate link between the indoor and outdoor space. All of the hotel's spaces were designed to combine comfort and sustainability, and to promote R&R for body and mind. Savoring the scents of green moss and dew-covered trees in the uncontaminated freshness of the mountain air, during their stay guests reconnect with themselves and with nature.
The hotel offers two room categories: standard and suite. The standard rooms were designed to frame the natural scenery, adopting a pared-back concept based on clean materials like canvas, clay and cement grouting; walnut wood touches make for a warm and welcoming atmosphere. In the suites, floor-to-ceiling windows ensure the rooms are flooded with natural light, offering views of the spruce forest that guests may enjoy from when they wake up, looking out over the panorama from their bed. The suites are complemented by a living area and a large balcony. Light-colored and natural tones predominate in the design color palette, in shades ranging from beige to brown, combining with the elevations to break down boundaries between the hotel spaces and the nearby forest.
The hotel's wellness area boasts two "Sky pools" on the roof, one indoor and one outdoor of 17 m, supplemented by a treatment area and the Forest spa, a place of calm and tranquility in the lower part of the structure, featuring a sauna, Turkish bath and a yoga room. The hotel also offers a relaxation room totally immersed in a hollow in the woods.
Location: San Genesio, Bolzano, Italy
Client: Gamper Mumelter Family
Completion: 2019
Gross Floor Area: 5,500 m2
Architect and Interior Designer: tara architekten
Main Contractor: Baufirma Ploner
Electrical and Mechanical Consultant: Energytech
Photography by Samuel Holzner, courtesy of the author
You might also like: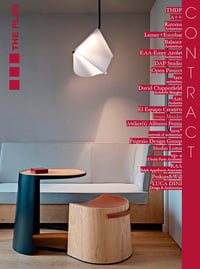 Contract 003
The third issue of our special dedicated to contract furnishing and design features projects with lots of green spaces and a focus on the wellbeing of users. Projects, in other words, that respond to a new awareness that emerged during the pandemic. ... Read More
Paper Version
15.00 €
Digital version
5.49 €