Through floor-to-ceiling windows on the second level of the Nomad Tower in Manhattan, passersby can glimpse an agile and flexible office laid out like a veritable design laboratory and conceived to evolve over time. At 1250 Broadway, Midtown, the New York offices of the Perkins&Will architecture and design practice foreshadow solutions to needs that emerged during the pandemic. The design of its fluid, easy-to-reconfigure spaces, with furniture on casters and removable walls, achieves the goal of integrating "physical" and virtual work, while offering built-in audiovisual tools to manage online meetings.
Led by Interior Design Director Brent Capron, the designers gathered their colleagues' thoughts and then put this information to good use to create an environment that optimally interprets the future of the workplace. Overlooking Broadway and West 31st
Street, this 1,100 sq. m new space is comprised of a reception area, individual and collective workstations, meeting rooms and a relaxation zone with a kitchen that also doubles as an events venue. The office layout encourages the exchange of ideas and interdisciplinary collaboration, as well as carving out opportunities for personal focus and solo working. The interior finishes and furnishing solutions are typical of the sector, with carpeting, white desks and black swivel chairs, combined with visible
ceiling-mounted systems and exposed concrete pillars, elements that introduce an industrial flavor to the mix. Plants, portions of Venetian terrazzo-style flooring and light-hued wooden furniture in the common areas add notes of elegance and domestic warmth.
As well as allowing the greatest possible amount of natural light to flow in, the glass fronting offers a window onto the practice's life by letting the dynamic and creative atmosphere permeating the Perkins&Will offices to flow out onto the street. Thanks to transparent partitions between areas, perceptual continuity between inside and out continues through the various different office spaces. The centerpiece of the whole project is a multifunctional space called "The Cube": located at the corner of the building, it was conceived for both in-house professionals and clients as the firm's beating heart. Although generally set up as a meeting room, it is equipped with a screen, and can also be transformed to accommodate other activities. The experimental method that underlies Perkins&Will's creative process is reflected in the long wall backdrop to the expansive open space, designed for posting sketches, ideas, and technical drawings, works-in-progress for the firm's ongoing jobs and the design for its new offices.
Interview
Learning and experimentation
Brent Capron, Interior Design Director
Which are the main steps of the project for Perkins & Will's new offices at Nomad Tower, from the workshops with co-workers up to the development of the layout?
Our studio's new location officially opened in the fall of 2020 with both the build-out and move accomplished amid the pandemic.
We began the design process by first identifying the four different personas that captured the behaviors and values of the New York studio: the client, the desk dweller, the maker and the multi-tasker.
Project workshops were then set up with staff to identify trends, needs and desires that became design opportunities for the future "unassigned" workplace. We studied behavioral shifts that could derive from removing assigned seats and creating a more agile work environment. There were a range of considerations, such as individual employee's relationship with objects, beyond binary ownership (personal vs shared). Input from these workshops helped inform the idea of the studio as a "learning laboratory" that would foster a culture of experimentation with new ways of working. The new space encourages collaboration, provides choice and flexibility, and harnesses new technologies that support hybrid work models.
After settling on a home in the Nomad Tower, we laid the space out, determined the best flow of traffic, sought key advantages of the floor space, and found opportunities to maximize flexibility between uses of different teams and personas. With finish and furniture selection, we methodically chose the right combination of materials to communicate the excitement of creativity and to represent the strong resilience and sustainable mission of the studio.
Which design solutions can be adopted to combine physical distancing imposed by the pandemic with teamwork and social relations in an office?
The project took a course of two years that started in 2018, prior to the pandemic, but had successfully adapted to real estate, cultural and technological "shocks" in an agile way.
In July 2020, Work From Home and Return to Studio surveys were sent to all New York employees. We learned the ability to adjust working hours would improve flexibility and give the team a higher sense of freedom and choice. Additionally, health and wellness were identified as the number one concern to all persona types returning to the office.
With post-pandemic solutions in mind, room and desk scheduling was adopted to allow for daily flexibility for when and where people work, allowing individuals and groups to adjust to their changing needs. Flexible desk and table layouts with demountable partitions and movable technology provide the ability to have in-person meetings with multiple people. Additionally, our Surface Hub and Mobile Studio/Studio Box technologies allow for seamless hybrid meetings, taking into account social interactions expanding beyond the physical constraints of the office.
«I do not think the open office is dead, but I think we may have additional barriers for comfort». Can you please better explain this concept you expressed and how it is developed through the interior design?
We are giving staff flexibility to locate oneself in a distance that is comfortable from other workers. We made phone rooms and other break out areas available to have private conversations and calls. And there is the ability to go to a non-traditional bench desk layout. Future adaptations to our space include: visual barriers for additional privacy, and high back chairs, booths or soft seating within a room to provide personal privacy without being in a tight, enclosed room.
Does the opportunity to create flexible working spaces, which can be easily rearranged, involve the risk of not being able to represent at best the brand identity?
Flexibility does not always mean rearranging; more often it means providing multiple space types to choose from and providing the technology to make moving from space to space seamless. For example, the lounge furniture alongside the floor-to-ceiling windows beside reception provide a relaxed lounge-type space for checking emails, while huddle spaces along the window provide another space for different types of interaction. In places where furniture are intended to be rearranged, like the Nomad space and main conference rooms, we made sure that the limits of reconfiguration are clearly defined so that our brand identity is maintained, no matter the intended use.
You were born and raised in Colorado and the intensity of the natural environment has impacted your approach to design. Do you think that the pandemic has been exerting a positive influence in the reconnection of human beings with nature?
I would certainly hope so. The positive effects from reduced human activity - like the clear water in Venice's canals, or the global reduction of greenhouse gases - show that humans can have a significant effect on the environment if we change our behaviors. Hopefully this encourages more efforts to reduce greenhouse gases across all sectors and groups.
Due to the pandemic, I have personally witnessed: staff remote distancing to places where they are working in or around nature (i.e. I have been interrupted more than once with a bear walking through the yard of the house I am working from in Western Massachusetts); staff taking phone calls outside for fresh air during personal walks or just sitting on decks or stoops to take respite from the indoors; and staff utilizing increasingly more flexible schedules to ensure escapes to natural spaces through activities such as camping or hiking to recharge.
Location: New York City, USA
Completion: 2020
Gross Floor Area: 1,115 m2
Interior Design: Perkins&Will
Contractor: Benchmark Construction
Consultants
MEP: WB Engineers | Consultants - Audio-Visual Equipment: Tritech
Photography by Garrett Rowland, courtesy of Perkins&Will
You might also like: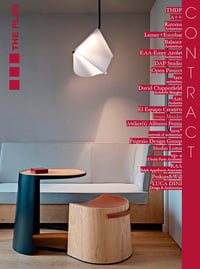 Contract 003
The third issue of our special dedicated to contract furnishing and design features projects with lots of green spaces and a focus on the wellbeing of users. Projects, in other words, that respond to a new awareness that emerged during the pandemic. ... Read More
Paper Version
15.00 €
Digital version
5.49 €