Vittorio Grassi Architetto and Partners, an international architecture practice that has been active since 2005 at offices in Milan and Paris, oversaw the project to restore and renovate the interior and exterior façades of a building located at Via Principe Amedeo 5, in Milan. The job required special attention to balancing modernization of the entire complex to meet the requirements of contemporary architecture, with the desire to restore the original front facing the main street. Great efforts were made to preserve existing historical and typological elements, restoring the quality standards from the original 1871 structure, which became home to the American Consulate in 1879. Today, the building is being transformed to meet the needs of Covivio, the European real estate company that owns the property, which is planning the conversion to office use, distributing 500 workstations over a total of 9,000 sq. m spread over five floors.
The project envisages the redevelopment of the entire architectural complex, including a courtyard and secondary building previously used as garaging.
The main body of the building was renovated by replacing the windows and doors, renovating the floorspace, reorganizing the interior spaces and upgrading all rooms to current regulations. The whole job was carried out with respect for historical prerogatives, following the principle of a "minimum intervention" approach. The roof was replaced with flat roofing enhanced by new glazed volumes covered in metal grating, set some distance back from the main elevations. This 600 sq. m raised structure, surrounded by a roof garden and large terraces, offers glorious views out over the Milanese skyline.
Redevelopment of the inner courtyard, previously a car park, enacted a change to the design of the surrounding spaces. Conversion of this area into a green courtyard, in keeping with the Milanese tradition, involved installing large grassy areas and native tree species, interspersed with stone slabs of varying sizes. Adjacent room spaces are now physically and visually connected to this central area, reducing the membrane between inside and outside and blurring boundaries between public and private.
Finally, the secondary building that enclosed the courtyard area, which was in a very poor state of repair, was completely redesigned, while maintaining the original volumes and heights. The volume is characterized (and differentiated from the main building) by a continuous, glazed façade consisting of a mixed glulam and aluminum load-bearing structure. The interior consists of a single large space over two floors, and is for office use.
The project targets achieving application of the LEED protocol (LEED Gold) for maximum environmental sustainability. Consequently, recycled or recyclable ecological materials were used, such as beech glulam for curtain walls, together with high insulation capacity selective glass, screen-printed with a parametric decorative pattern.
Location: Milan, Italy
Client: Covivio
Completion Date: 2019
Gross Floor Area: 8,700 m2
Architect and Art Director: Vittorio Grassi Architetto and Partners
Construction Management: Pro.Iter P&CM
Main Contractor: Colombo Costruzioni
Consultants
Structural: DLC Consulting
Services Engineering: Progettisti Associati Tecnarc
Safety: Sicurcantieri Co.
Fire System: Studio Tecnico Zaccarelli
LEED: Studio Greenwich
Façades: Studio Ingegneria Rigone
Façade Systems: Schüco
Continuous Glass Façades: selective glass on an extra-clear base by AGC Flat Glass Italia
Glass in the Windows: ClimaGuard 1.0 and SunGuard SN 62/34 by Guardian Glass
Thermal Break Windows and Doors: Secco Sistemi
False Ceilings: Armstrong Ceilings
Sanitary Ware: Duravit
Photography by Diego De Pol, courtesy of Vittorio Grassi Architetto and Partners
You might also like: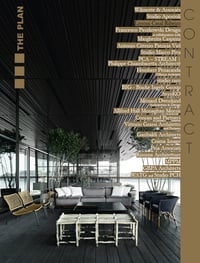 Contract - vol. 1
In this special issue we cover a variety of projects, ranging from the hospitality industry to the services sector, with an interesting detour into the nautical world. Architects and designers around the globe have succeeded in shaping classic and co... Read More
Paper Version
15.00 €