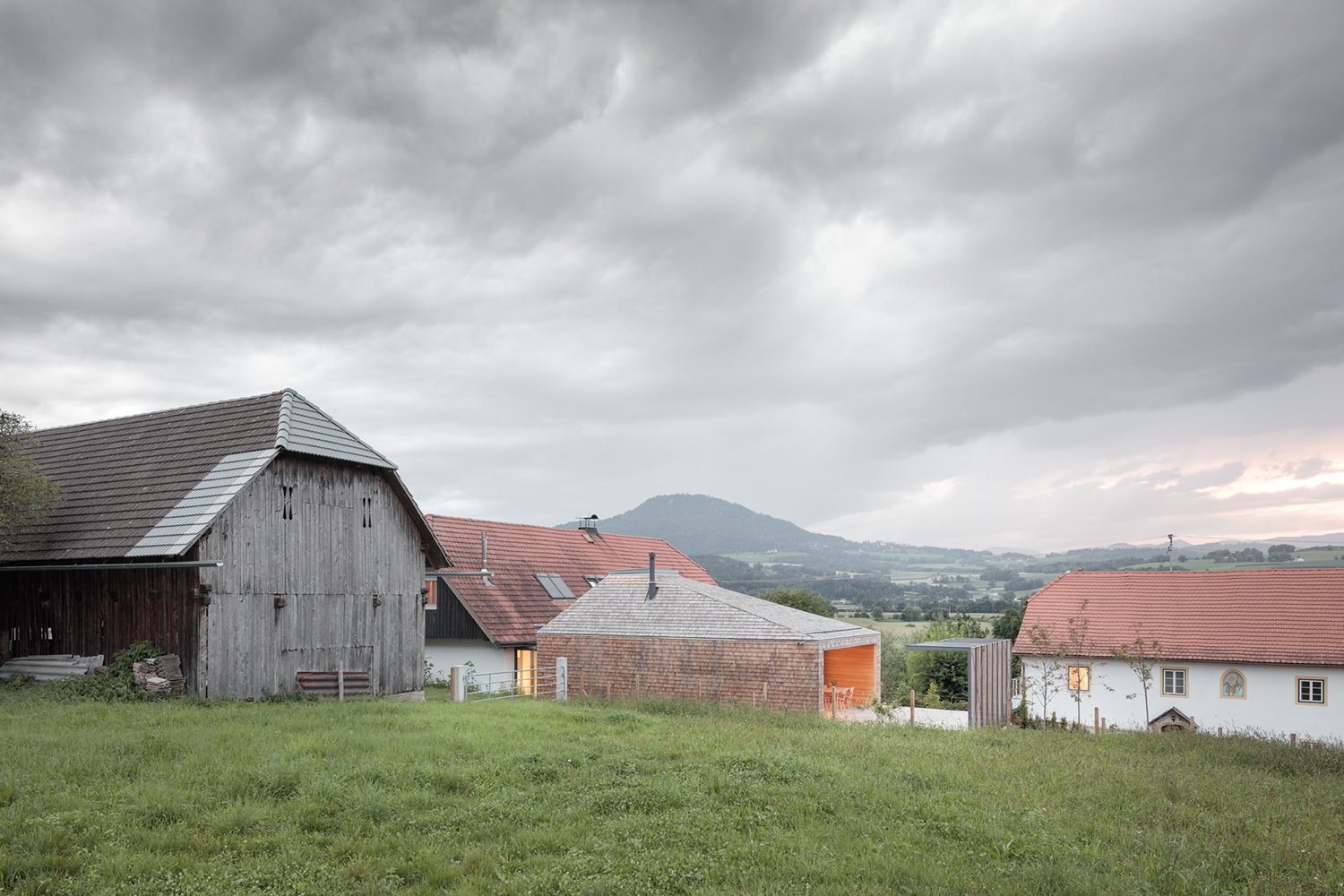 The addition is a spatial extension and supplement to the existing residential building that is located in a village featuring traditional houses with gabled and hipped roofs. The new building evolves from the tradition of the historical order and yet it presents a completely new interpretation. On both levels, the supporting elements are visible. Touching the ground and blending into the terrain, a double-edged concrete base constitutes the support for the ground floor made of cross-laminated timber. Resting on the walls, the panels transition into a hipped roof structure whose upper closure is a skylight. The zenith light illuminates the room, making for sharp contours. The tent-like structure creates a sublime sense of space. The façade and the roof are encased in larch shingles. They trace the vertical lines and different roof pitches and envelop the building like a scaly skin. Through weathering and time, the wood incrementally enters into a close relationship with the environment of sky, weather and wind phenomena. The living room and dining room are on the ground floor; the basement houses a multifunctional room, which serves as a wine cellar and room for withdrawal and relaxation and can be flexibly used by way of a pivoting door. The transition between old and new is formed by an all-round glazed walkway, and inside and outside are perceived more intensively. A loggia/terrace/pergola construction with larch planks expands the space toward the outside. A waist-high wall protects the terrace on the basement level from which you have access to the outside. The windows open generously to the loggia and toward the west, where the large-format windows frame the view and let it sweep over the valley.
Credits
Klagenfurt am Wörthersee
Austria
Confidential
08/2020
154 mq
spado architects
Hannes Schienegger, Samira Taubmann, Angelika Mairitsch, Benjamin Ratheiser
-
-
-
spado architects, Kurt Kuball
Curriculum
spado is a partner based, interdisciplinary planning office, which works in the fields of architecture, landscape and project developments. the perception of spaces and places takes a key role in the work of spado. spatial concepts are developed in intensive dialogues with clients and partners, which base on a holistic approach to combine individual circumstances with economic and aesthetic aims. a exercised team assures the professional and efficient realization of the projects.