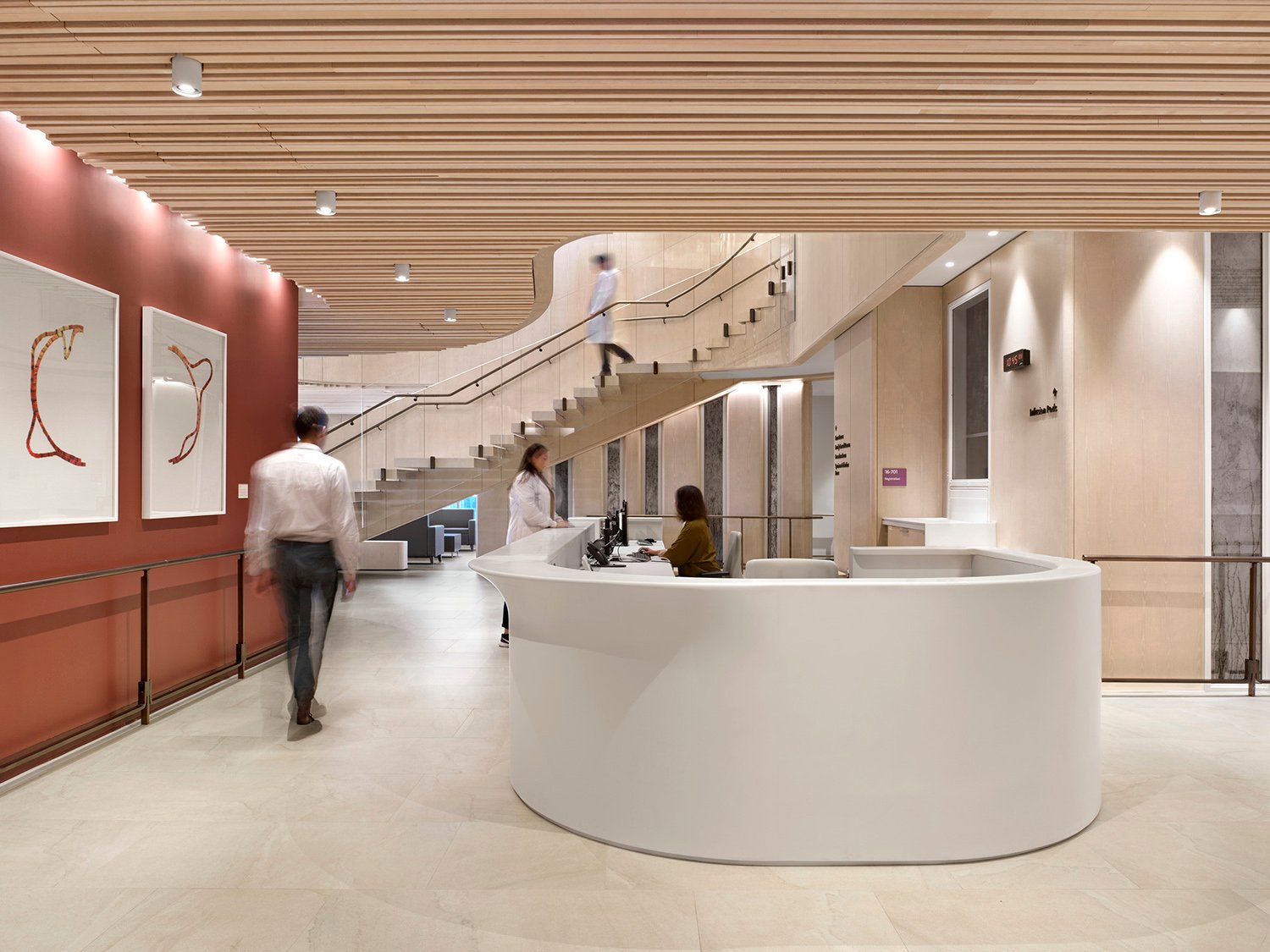 For 40 years, St. Michael's Hospital in downtown Toronto has been a leading provider of services for Multiple Sclerosis (MS) patients, operating an ambulatory clinic in separate buildings across its campus. Not only did this pose a challenge for people who struggle with mobility issues brought on by the illness, but it also hindered collaboration and educational opportunities between professionals and students. To meet a growing need for a range of critical care services, the hospital opened a 17-storey patient care tower in 2021. The top two floors are home to the BARLO MS Centre. MS is a complex autoimmune disorder of the central nervous system with a wide spectrum of symptoms and no known cause or cure. It generally strikes people in their early 30s. Canadians are particularly prone to MS for reasons that are unclear. With this new facility, the hospital is positioned to advance MS care and has the ambition to become the world's leading MS centre through research and clinical treatment. The architectural goal for this project was to emphasize that design is an important part of a care strategy in a healthcare setting. The design conveys an understanding of the challenges faced by MS patients and provides practical solutions throughout the facility. Recognizing that patients are at the center of their health and wellness journeys, the design is empowering, hopeful, and fundamentally life-affirming. This is realized through attention to every detail from furnishing and finishes to floorplan. The facility's location on the top two floors allowed for considerable modifications to the building during construction to accommodate program requirements. These include a 4.5-metre cantilever extension on the tower's east elevation to enlarge active patient space; a double-height atrium and connecting stairway that is at the heart of the facility; and a rare feature in a hospital – an oculus skylight to bring in welcoming rays of sunlight. From the moment one steps from the elevator and enters the BARLO MS Centre, it is apparent this is not a typical hospital clinic setting. To achieve the desired aesthetic of a warm embrace that puts patients at ease and to distinguish this clinic from most other hospital environments, material selection focused on wood treatments. A calming palette of natural wood lines the walls and ceiling, adding warmth and texture. Selecting predominantly wood finishes required rigorous sampling and testing to ascertain infection control standards were met. Furnishings and finishes were all prototyped to anticipate patient needs and designed for comfort and accessibility. Furthermore, durability and maintenance goals were achieved without compromising the aesthetic and personalized patient experience that is at the heart of the design approach. Open yet private in its plan, the program areas address common MS symptoms, which include vision and cognitive loss, fatigue and impaired co-ordination. The corridors are wide to allow for mobility aids and their storage; the floors are softened with anti-slip porcelain tiles; and handles and railings are ever-present and easy to grasp. The lobby is full of natural light with picture window views of the city. Comfortable, spacious seating makes this an inviting place to rest for appointments. The double-height atrium features a signature curving staircase that is not only a physical connection between the two floors and used for physical therapy but also a symbol of the integrated model of care at the BARLO MS Centre. Program areas on both floors are visible and highlighted by the cascade of natural light emanating from the oculus skylight above. The pursuit of this exceptional feature required innovation to succeed. The atrium's two-storey opening is larger than allowed by Toronto's building code for a hospital. A compensating measure was required. Revolutionary in its implementation, a side-scrolling fire shudder – a first in a hospital setting – was installed and out of sight save for a thin track in the ceiling on which vertical metal slats would enclose the space in case of fire. Facilities are introduced here not found in other treatment centres. Hospitals don't usually incorporate gyms, but exercise can help with MS symptoms. An independent living lab, which is essentially a mock apartment that resembles a one-bedroom condo with kitchen, allows staff to teach patients how to adapt their living environments and to give patients independence and control over their own care at home. By creating an integrated space specifically designed to meet the needs of MS patients, the BARLO MS Centre is able to provide patient-centred, comprehensive and personalized support in a welcoming, positive, and caring environment. With patients present for extended periods of time throughout the day, the design response creates uplifting spaces that convey comfort and an atmosphere of caring. The rounded infusion pods where patients may sit for up to eight hours are modelled to resemble a first-class airplane lounge and provide patients with complete control to adjust their environment, making the treatment as comfortable as possible. The circular family consultation rooms are welcoming, curvilinear spaces with a tactile ribbed surface and clear and frosted glass that balance connection with the wider activity at the centre while maintaining privacy. Bringing the full spectrum of MS care and research together for the first time at St. Michael's Hospital – to create North America's largest clinic dedicated to MS – also meant designing a conducive environment for research and information exchange. Creating a centre that expressly encourages creative collisions, facilitates knowledge transfer and leads to innovation is critical to making the BARLO MS Centre a place researchers and patients want to be, and to attract the best and brightest talent from across the globe to pursue the ultimate goal – a cure for MS.
Credits
Toronto
Canada
St. Michael's Hospital
06/2021
2787.0912 mq
Siamak Hariri, Founding Partner of Hariri Pontarini Architects
Doron Meinhard (PM - Design Competition and Design Phase), Miren Etxezarreta-Aranburu (Project Architect until construction), Greg Adams (PA - construction)
HH Angus: Catherine O'Neill | Thornton Tomasetti: Gamaniouk, Taras | Jensen Hughes: Mohamed, Mohamed | Total Opening Consultants: Steve McRae
A-Frame Photography
Curriculum
Hariri Pontarini Architects (HPA) is a leading Toronto-based architectural studio known for crafting projects of enduring value. Founded in 1994 by Siamak Hariri and David Pontarini, the firm's portfolio covers a diverse range of institutional, cultural, mixed-use, commercial, and residential projects of international acclaim. Distinguished by an unwavering commitment to design excellence and an aspiration to create architecture that can uplift and inspire, HPA's growing body of work has helped to elevate Canada's architectural profile on the global stage.

Award-winning projects led by Siamak Hariri include the Bahá'í Temple of South America located in Santiago, Chile; the Royal Ontario Museum Welcome Project; Casey House, Toronto's HIV/AIDS hospital; and the Tom Patterson Theatre at Canada's Stratford Festival.