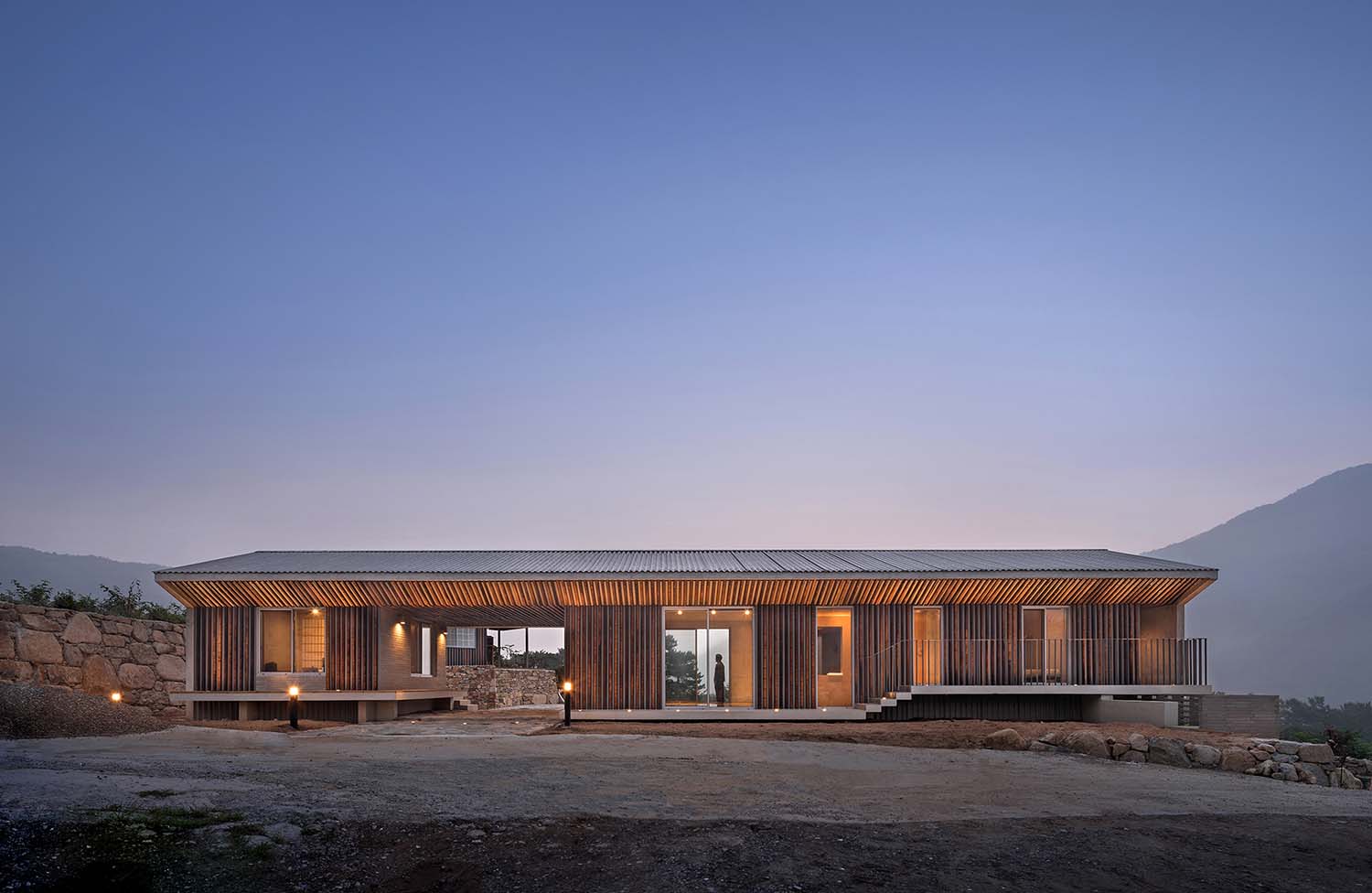 The Grandpa's Cool House is a retirement home for the baby boomers. In Korean modern history, baby boomers (From 1953 ~ 1962) are the generations who experienced the situation of the extremes in life. They have undergone a period of boom in economic development in the postwar period of poverty, opened democracy against the military dictatorship, grew up in the local Korean culture and Confucian values, but in the flow of globalization, they live in the age of capitalist mass culture and global values. The baby boomer generation is a multi-layered generation that exists through all the whirlpools of modern Korean history. In the course of modernization and industrialization, traditional or native Korean architecture has largely disappeared, but it still exists as one of the mainstays of Korean architecture. In addition, the newly introduced western architecture of the last half-century has also become a big trend in Korean architecture with the changing lifestyle of Korea. However, these two are strictly independent architecture and exist only on both sides of Korean architecture. What if the local Korean architecture meets Western architecture and goes through a process of natural evolution? The words 'the generation of baby boomer' called the intergenerational generation, and 'Korean native architecture' resemble many in those respect. Based on this background, The Grandpa's Cool House is a project with the theme of 'Finding the identity of a baby boomer generation' and 'Taking the modernization process of Korean native architecture.' We organized spaces in a way that adds modern functionality and aesthetics while maintaining the layout and meaning of traditional architecture that conforms to nature. Traditional architecture toenmaru(Korea style terrace) and cheoma(Korean style eaves) were made into a modern and natural space by using the corrugated steel sheet made of metal, and bamboo that grows naturally in Gimhae.

Architect-K has paid attention to the historical, social and natural environment of Korea. This is due to the belief that local interests are the basis for differentiated architecture and will enhance the diversity of architecture. During the design process of Grandpa's Cool House, We looked back on the life of Baby Boomer, the most distinctive generation in Korean history, and wondered what the answer was to their residential style for their retirement. In addition, we tried to modernize the traditional architecture of Korea and made it a reality by using bamboo which is the local material.
Credits
Gimhae
Korea, Republic of
Soo Kyoung Ahn
07/2017
209.5 mq
Kichul Lee
Kyoungsoon Park, Sanghoon Lee
Chaehun Construction
Yoon Joonwhan
Curriculum
Kichul Lee is the founder of ARCHITECT-K. He graduated from University California, Berkeley with a Master of Architecture. He had worked on FSA(Frederic Schwartz Architects, New York), SPACEGROUP(Seoul). He is a Kira(Korea Institute of Registered Architecture) Member.
https://www.architect-k.com/gr...