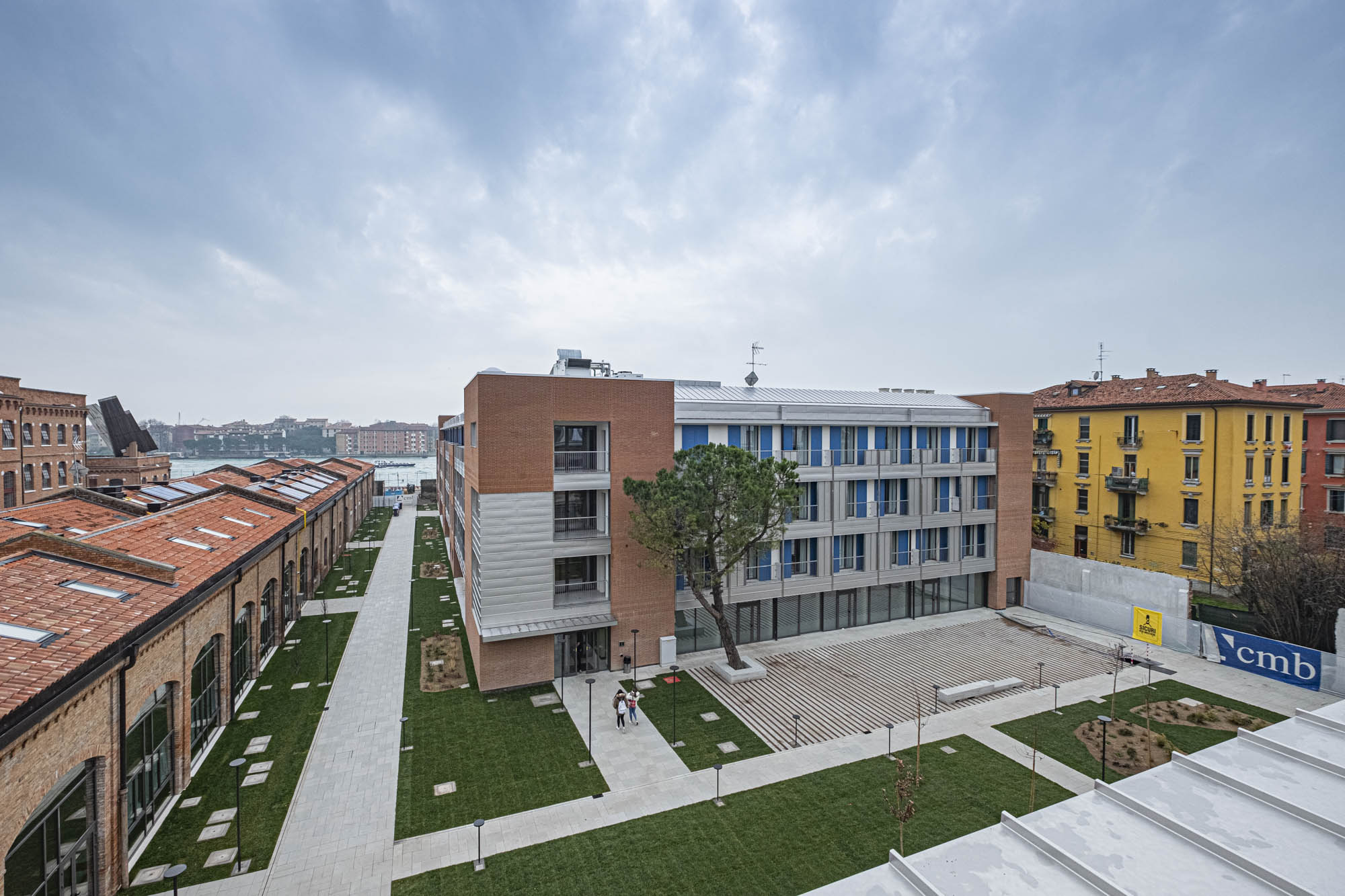 Built on a complex of historic buildings located in an area whose potential had so far remained unexpressed, the intervention represents an example of urban redevelopment unique of its kind for the city, recovering some buildings dating back to the early twentieth century that had the function of warehouses to support the activities of the adjacent Cotton mill.
The operation was developed under the propulsive thrust of the Ca 'Foscari University of Venice, which launched a call for tenders for the assignment of 75-year surface rights to an area owned by it partially used to house the activities of the scientific departments. , with the aim of creating a residence and maximizing the student vocation of the area.
The initiative, worth about 30 million euros, was carried out by the Erasmo Fund, a real estate fund dedicated to the temporary housing sector for students, managed by Fabrica Immobiliare. The intervention also makes use of a contribution from the MIUR.
The construction works, based on a project by the Design Consortium, were entrusted by Fabrica SGR to CMB in 2017 and lasted about two years.
The management of the residence is instead entrusted to Camplus, the first housing provider for university students in Italy, which today manages about 9,000 beds throughout the country and is present in 12 Italian cities and in Spain.
The Student residence is made up of a complex of three buildings, known as "Cube", "Parallelepiped" and "South Building", in an area originally created to house the Venetian Cotton Mill: the intervention involved its recovery, including demolition and reconstruction.
A central green space represents the hinge between the three buildings and is characterized as the main entrance and distribution path of the entire structure.
The complex, manned by a 24-hour reception, houses 412 furnished rooms, equipped with kitchenette and independent bathroom, sleeping area and study corner and served by free wi-fi.
The housing offer is accompanied by a series of services designed to promote community life, combining hospitality and training and interpreting the needs of university students.
Approximately one third of the surfaces is in fact occupied by common areas, with services to support teaching or designed for leisure time such as study rooms and meeting rooms, laundry, games and TV rooms, bar and gym for the guests of the structure with latest generation and personal training service.
Camplus Venezia Santa Marta is a structure built in energy class A: the plant equipment includes the production of energy through renewable sources, the presence of a cogenerator and the management of the building through the "Building Management System (BMS)" which allows plan and manage consumption. In fact, all environments are equipped with temperature regulation and smart lighting, with detection of the use of space through presence and brightness sensors. The accommodations are also managed through badges, in order to minimize consumption in the absence of guests.
Credits
Venezia
Italy
Fabrica Immobiliare SGR
Confidential
11/2019
Fabrica Immobiliare SGR
CMB
Jacobs
Homes spa, Gifar