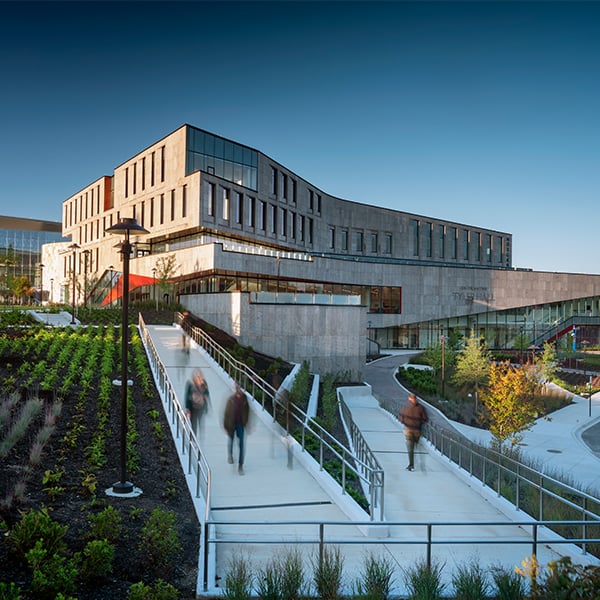 Morgan State University (MSU) in Baltimore is the largest of Maryland's Historically Black Colleges and Universities. Founded in 1867, the university was designated a 'National Treasure' in 2016 by The National Trust for Historic preservation. Its campus extends from a historic academic quad in a neoclassical style to a campus commons surrounded by modern buildings. Teeple Architects, in collaboration with GWWO Architects, was tasked with designing a student services centre that would bridge the historic academic quad and the modern campus commons, while establishing an iconic and uplifting 'front-door' to the university.
The Calvin & Tina Tyler Hall Student Services Centre improves the overall student experience by establishing a welcoming entry point for current and prospective students, and gathering the university's formerly dispersed administrative and student services under a single roof. As a student's first official point of contact with the university, and their key administrative interface throughout their studies, the building was designed to affirm MSU's long-standing position as a preeminent public university with a positive future.
The new building has an expressive form, with sweeping curved walls that reach out to embrace its surroundings and invite students into the dynamic campus, while its stone cladding links it to history and tradition. Much care was given to finding a limestone cladding that would blend with the palette of Maryland field stone found on the older adjacent buildings while allowing for a more contemporary architectural expression desired by the university. After a thorough material selection process, the university settled on distinctively dark Eramosa limestone from a quarry in Ontario, located three hours north of Teeple's office. The limestone cladding is accented with prismatic metal cladding that subtly shifts between rich copper and orange hues, depending on the weather, time of day and viewing angle.
Topographically, the academic quad and the campus commons sit a full storey above the surrounding neighborhood. To ameliorate the grade separation, there are two connected main entrances. One entrance located at street-level and the other a full storey above, at the campus commons. A large landscaped arrival court invites students and visitors towards the street-level entrance where grand stairs, both interior and exterior, mark a formal procession up to the campus commons-level. With the ground floor partially embedded into the hillside, the landscape encircling the building makes use of terraced rain gardens, or heavily planted bio-retention features designed to passively meet Baltimore's stringent stormwater management requirements.
Inside, the building features departmental reception areas and service desks organized along a series of flowing, multi-storey lounges with ample seating, study and collaboration spaces. A monumental stair with gently curved landings, and a continuous wood soffit, forms the connective tissue between the three levels of public lobbies and lounges, leading to various student-facing departments and culminating with a large student services counter.
On the third floor there's a large landscaped terrace, planted with tall grasses and native pollinator species including Maryland's state flower, the black-eyed Susan. A space for small events and gatherings, this terrace has panoramic views of the academic quad, centered on historic Holmes Hall.
The iconic new building embodies the university's pride in its history, and optimism for the future.
Key to Tyler Hall's overwhelming success, integrated planning wove building and landscape into the campus fabric and merged multiple departments into one innovative, cross-functional service model—where students go to a single counter and person for an array of services. A highly inclusive design process assembled this diverse range of people into a tightly knit group in support of this service model. Collaborative workshops built trust and instilled a broader understanding of how to best work together—in the building planning and ultimately within its finished walls. Close relationships between the design team disciplines were critical for achieving design, programmatic, and LEED goals.
Tyler Hall amalgamates departments, blurs lines between indoors and outdoors, connects the city to campus, brings students together, and integrates old and new in a manner that is particular to MSU. Students unite in dynamic, modern social spaces that overlook, connect to, and animate new and existing outdoor public spaces. Staff are co-located and share a five-storey skylit social space that enhances the interaction between departments. The City of Baltimore is connected to the campus through a range of outreach programs easily found and accessed within the building.
Extensive site analysis examined the predominant site forces: connections between campus and community, site circulation, and views. Desire lines drawn between the traditional campus and the library shaped the east/west faces, preserving views from key library spaces to Holmes Hall, a landmark campus building, and aligning with the academic quad. Desire lines flowing from the city into campus shaped the welcoming curve of the north/south facades. The limestone cladding blends the traditional and modern sides of campus and links the two. A green terrace on the third floor affords dramatic views to Holmes Hall and sweeping views of the city.
Ensuring daylight throughout the building and office suites was equitable for all employees was a driving factor behind the building's layout. Open office space and corridors were placed along the exterior to maximize daylight sharing. Private offices positioned closer to the interior incorporate glazing to benefit from borrowed light. A central atrium housing meeting and collaboration space also serves to filter daylight to offices along the interior. Exterior glazing on this new campus entrance building also enhances campus security by illuminating the campus corner in the evening.
Credits
Baltimore
United States of America
Morgan State University
10/2020
13100 mq
Design Architect: Teeple Architects; Architect of Record: GWWO Architects
Teeple Architects: Stephen Teeple; Tomer Diamant; Jason Nelson; Eric Boelling; Nicole Rak; Fadi Salib; Patrick Harvey; Carla Pareja; Eric Oh; Melanie Lo; James Janzer; Cameron Parkin; Miguel Sanchez Enkerlin; Paula Lee; Haotian (HT) Liu; Rob Cheung; Yasser Raees; Kateryna Lokhnina GWWO Architects: Alan Reed; Eric Feiss; Bob Mock; Jason Hearn; David Ritter; Kevin Miller; Ariana Parrish
Barton Mallow
Structural Engineers: ReStl Designers Inc.; Mechanical Engineers: Mueller Associates; Electrical Engineers: WFT Engineering; Civil Engineers: Carroll Engineering; Landscape Architecture: Floura Teeter; Transportation: Symmetra Design; Sustainability: Sustainable Design Consulting; Geotechnical & Site: Navarro & Wright; Acoustic: Acoustical Design Collaborative; Lighting: MCLA; AV, IT & Security: speXsys; Interiors & Signage: PLDA; Cost: Forella; MDE Expeditor: NMP Engineering; FFE Architect: KPN Architects
Stone Cladding: Owen Sound Ledgerock LTD.; ACM Accent Cladding: ALPOLIC / East Coast Metal Systems; Curtain Wall & Storefront Glazing: YKK AP / Zephyr Aluminum LLC; Acoustic Wood Ceilings: EOMAC; Epoxy Terrazzo Flooring: Roman Mosaic & Tile Company; PVB Glass Accent Walls: Vanceva
nic lehoux photographie architecturale | architectural photography
Curriculum
Teeple Architects shapes buildings through an open, collaborative process rooted in curiosity and pragmatic optimism. Founded in 1989 in Toronto, Canada, the firm has built a reputation for design leadership through a broad range of acclaimed institutional, commercial and residential projects. Our practice integrates sustainability and technical expertise with formal exploration to create buildings that embody the dynamism of the communities they serve. Drawing on the collective expertise of a diverse and talented team of design professionals, we work with discipline and imagination to shape ideas into places that bring aspirations to life. We have received some of architecture's most esteemed national and international awards including six Governor General's Medals for Architecture (Canada's highest architectural honour), two AIA awards, a Holcim Award for sustainable innovation, and four Innovation in LEED® Awards, and have been recognized by The Plan Awards three times.